This past week, I've been west-coasting it in Los Angeles – attending the 2011 Blogging While Brown Conference. This experience has been nothing short of amazing! I was awarded the BlogHer – Blogging While Brown Scholarship on June 30th (aka DivasandDorks.com anniversary) – in which BlogHer provided my conference fee & hotel accommodations (for what was my first blogging conference EVER!). From the moment I arrived in LA – I knew that DivasandDorks.com business of blogging would never be the same.
The conference opened up with an array of social events & I met so many of my blogging friends (in my head). Many of the bloggers, I already follow on Twitter & felt like I knew them – and once we met IRL (in real life) it solidified that they are truly as awesome in real life as they are online.
Blogging While Brown Game Night: Photo Courtesy of Skylar Hensley
By Day 2 – It was time to get down to business! There were two highly anticipated sessions that I believe not only advocates good business blogging, but it also applies to entrepreneurial efforts and creating a better business life! (SPOILER ALERT: If you're interested in learning how the POWER of PRIORITIZING can correlate to making more money! READ BELOW)
SESSION 1: Efficiency vs. Effectiveness: Practical ways for dealing with Information Overload Online
Presented by: Scott Hanselman & Adria Richards
SESSION 2: From a Side Hustle to a Career
My blogging sister Jessica from 'That Tech Chick" gave some great insight on How to Monetize your blog effectively – I'll post video soon but in the meantime, check out her tips
HERE
.
So with all of this uplifting and important business & blogging news, by now I'm sure you're wondering where did the bull riding come into play. right? As a believer in work hard / play hard – my last night in LA consisted of good ole Texas eats compliments of Saddle Ranch (yes, as in the VH1 reality show – Saddle Ranch) – and you know a gal like me couldn't leave without testing out some bull riding techniques…let's just say – this city girl will never (never-ever-ever-ever-ever-ever) try bull riding again…LOL!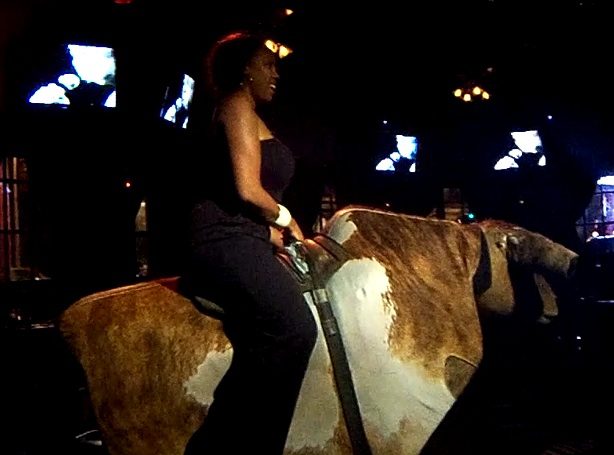 To see the HILARIOUS VIDEO of what happens next…click below…