This week, Divas and Dorks was privileged to talk fashion with the woman behind Harpy's flirty and sophisticated styles – Harpy designer Jennifer Greeke.  As a New York student of fashion, Jennifer has graduated and for the past seven years she has been immersed in costume design, creating and working for many films, dance and theater productions. Her creativity reached new heights with the creation of the Harpy fashion line in 2010.
Harpy is a women's ready to wear fashion line dedicated to bringing feminine, yet edgy, clothing to its stylish customers. Every piece is handmade in the U.S using only high quality fabrics. Harpy's romantic styles range from day, evening and unique statement pieces.  Jennifer's love of fashion stems from the idea that quality and creativity can bring out confidence and individuality in another, and she shared her thoughts further about her line and advice for aspiring designers as well.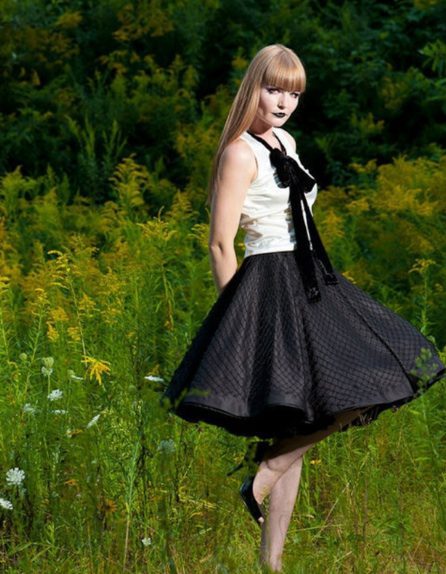 DIVASANDDORKS.COM: At what point did you know you wanted to be in fashion?
JENNIFER: I realized in college I was inspired and interested in it so I decided to make it my major.
DIVASANDDORKS.COM: What is the inspiration behind your latest fashion line?
Jennifer: Fall/ Winter 2011 is inspired by a mixture of a Harpy, fishnet, and my customer. The designs are flirty and feminine but definitely have an edge. The Harpy customer is diverse and I wanted to offer something for everyone. My Spring/Summer 2012 line is inspired by armor and the play between hard and soft. I'd tell you more but you will have to wait and see!
—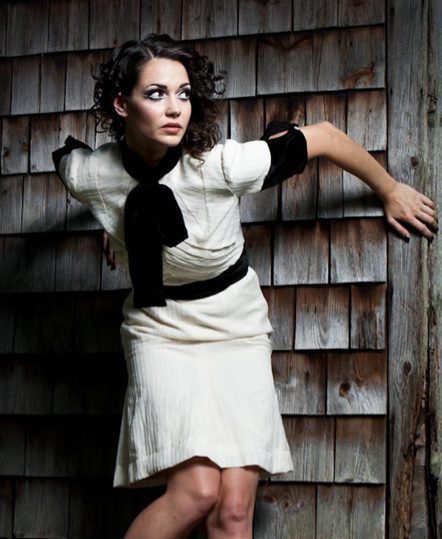 DIVASANDDORKS.COM: Are you a PC or Mac kinda designer? What gadgets do you use in your everyday creativity or productivity?
Jennifer: I'm a Mac person definitely… I get lost trying to find things on a PC. When I design I'm very much a old fashion pencil and paper designer, but i use my Bamboo Pen Pad and Photoshop often to touch up photos.
DIVASANDDORKS.COM: What advice would you give to aspiring designers that you wish someone would've told you before you began?
Jennifer: Learn Business! You can be the best designer but if you don't know how to run a business you will have a hard time selling your designs.
—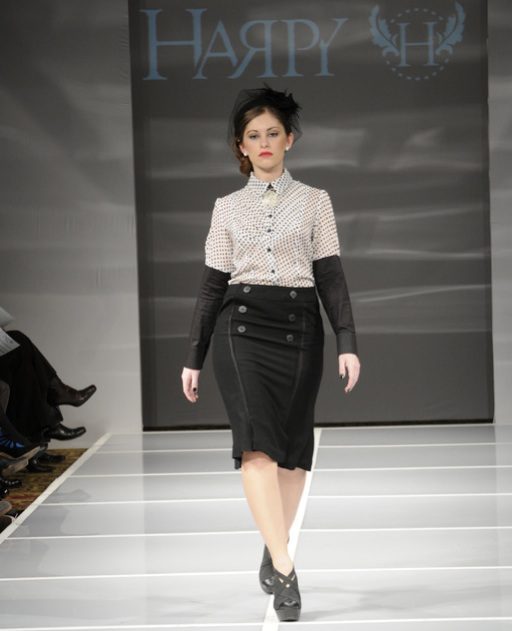 DIVASANDDORKS.COM: What's next for Harpy?
Jennifer: I'm currently working on the Spring/Summer line that will be featured in Styleweek Providence this August. I also hope to showcase the line during Boston Fashion Week in September.
For more information on Harpy's fabulous designs and how you can order them online, visit harpyfashion.com
—
How Would You Like To Win Your Very Own Exclusive Harpy Tee?
—

To WIN your Harpy Collection Tee, simply describe Harpy's designs in three words. (Three words only) in the comment section below. One winner will be selected on Friday, April 29th to win one Harpy Collection tee. Winner will have 72 hours to claim prize, if not a new winner will be selected.