Warmer months are finally here, prompting many of us to consider travel plans for the summer.  As a traveling Diva – I've had my fair share of traveling, experiencing the good, the bad and the ugly side of travel. However, I recently got the chance to chat with well-known travel advocate – Evie Robbie of Nomadness TV  to discuss the Nomadness Tribe, International travel tips & more!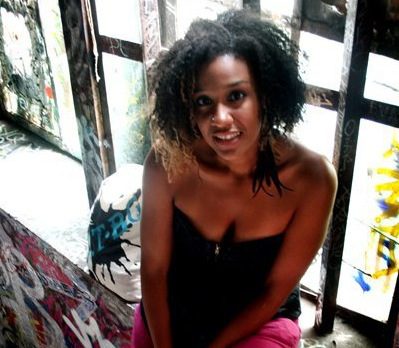 Q: At what point in your life did you decide that becoming a world-traveler was for you?
Evie:  I made the dive into travel right after graduating from Iona College in 2006. I was the Commencement Speaker for my graduating class and my speech was all about how we now needed to find a way to fuse our textbook education with that of the world, to help reach our dreams. I was the only person I knew in my entire graduating class that was taking the time after school to travel. Literally six weeks after walking across that stage, I was living in Paris for half a summer taking a Digital Filmaking workshop with the New York Film Academy.
Q:  What three gadgets do you typically use during your world travels and why?
Evie:  I'm not a gadget person that much, honestly. I'm like an analog girl sometimes in that I really only need my journal and a pen. For business oriented purposes I have to bring my Mac laptop, Canon camera, and my Blackberry. That's only to keep up with blog and email demands while I'm on the road.
Q:  What three essential tips would you share for readers who want to begin frequent international travels?
Evie:  1. Pick your destinations smart. If you're on a budget, travel where the conversion rate works with you, not against you. There's a reason why most broke backpackers choose South East Asia as their first go round of travel. Cheap.
2. If you are going anywhere in which you're suspect of the food, pack Oregano Oil. It smells and tastes like crap but trust me when I tell you it will save your stomach.
3. Register online with the US Embassy prior to leaving. I'd couple that with checking the CDC (Center for Disease Control) website at least a month before departing, to see if there are any vaccines or anti-malaria medications needed. Many of those need to be obtained prior to leaving.
Q:  How often does the Tribe travel internationally? 
Evie:  The Tribe itself has been up for less than six months. We're over 1700 members right now. Our first trip was in January. We have members who link all the time, but the next group trips are in July. We're doing Berlin to go to the splash! Hip Hop Festival, and Spain to run with the bulls that month. Meet Ups happen nearly weekly at this point. In five months, we've had Meet Ups in NYC, LA, London, Dubai, Rio, Houston, Atlanta, Shanghai, and other cities around the world. New York is just the main hub.
Q:  As your second successful kickstarter campaign nearing completion, where do you see Nomadness TV within the next 3 years?
Evie:  Within the next three years, I see Nomad•ness as a top rated travel show with a major television network. In three years I'll say that we'd have two seasons behind us, and probably working on shooting our third. The Tribe will be a part of the make up that makes the entire glue stick together. I envision a number of books also incorporated into the mix by that point.
To learn more about the kickstarter campaign and to DONATE –  CLICK HERE and learn more from Evie Robbie below.