[EVENT RECAP]  Thursday, September 11th – In celebration of another successful New York Fashion Week dozens of editors, bloggers and fashion enthusiasts attended "Relax, Renew and Recharge" #NYFWRRR lounge at Inglot Chelsea Studios in NYC.  Hosted by Ty Alexander of GorgeousinGrey.com, Christen Rochon of DivasandDorks.com and Kéla Walker of KelasKloset.com – collectively known as the Digital Sorority group – invited guests experienced live beauty demonstrations and complementary makeovers from Angela's Hair Studio and Inglot Cosmetics.
#NYFWRRR 
Once guests received complementary makeovers, many of them took to the #NYFWRRR selfie booth for unfiltered party moments shared on social media and beyond.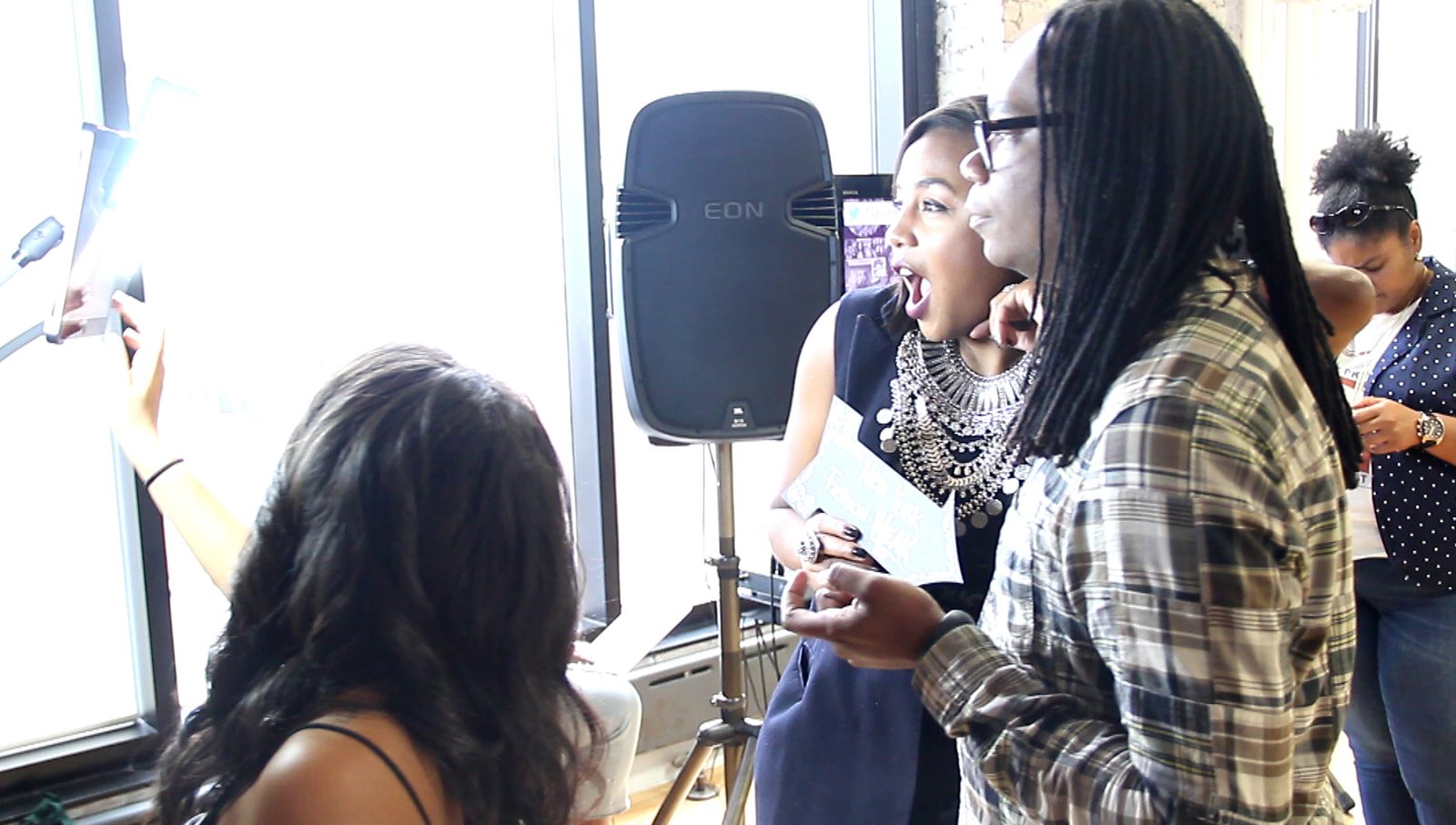 The #NYFWRRR Selfie Booth was in full swing and the life of the post fashion week party.
Hands on demonstration of the latest AT&T smartphones by knowledgeable product specialists.
In addition to beauty services and selfies, guests enjoyed hands-on interaction with AT&T products including the LG G Vista, Amazon Fire, LG G 3, G Watch and other exciting devices sure to empower any stylish editor on the go.  During the social media charged event, guests got social during the Relax, Renew and Recharge Twitter party and won amazing prizes including LG G Vista smartphones and accessories from AT&T, makeover prizes from Angela's Hair Studio and Inglot Cosmetics, Resurgence power cases from OtterBox and more.
Guests also enjoyed a special 20% off shopping experience for the must have beauty products for Fall.
Many guests walked away with giftbags filled with full size beauty products from SheaMoisture and Beautiful Textures, prizes and great memories concluding another series of New York Fashion Week events.  For more information, photos and get in on the post fashion week conversations follow #NYFWRRR online and visit DigitalSorority.com.
NYFWRRR grand prize winner receives her new LG G Vista smartphone from AT&T product specialists.
Thanks to our amazing sponsors Angela's Hair Studio, OtterBox, Inglot, SheaMoisture, Beautiful Textures and AT&T powering Relax, Renew and Recharge this fashion week season.  See you next year!
 Special thanks to all that attended #NYFWRRR from the hosts Christen, Kéla and Ty of Digital Sorority.
Comments