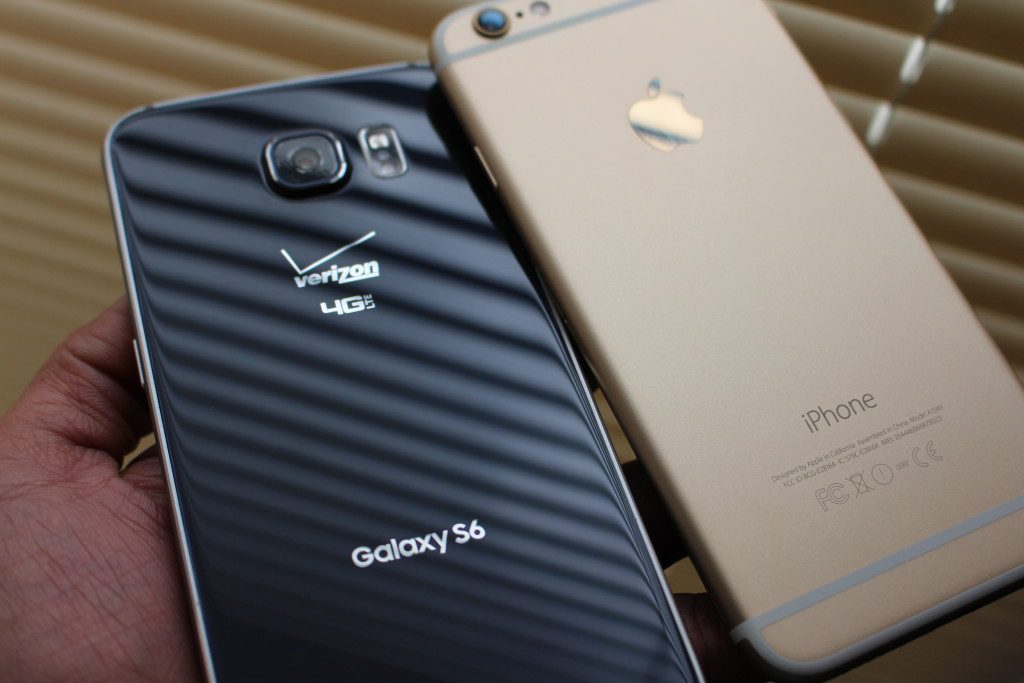 Let's get ready to rumble!  I recently got my hand on the Samsung Galaxy S6 (Thanks to the good folks at Verizon Wireless) and I have been excited to check out the uncanny similarities (and differences) between the iPhone 6 vs Samsung Galaxy S6.   As an early android adopter (I was the captain of team Android and even scored a cool trip as an ambassador to the 2012 London Olympics) I'm always curious to see just how competitive Apple and Android devices can be.  (Honestly, this is a healthy competition, that at the end the consumers win!)
We're all about our smartphones and how they enhance our day-to-day activities, so you know I can't wait to share my favorite user experiences with both devices, but until then, check out this head-to-head comparison and my first impressions of the iPhone 6 vs Samsung Galaxy S6 below.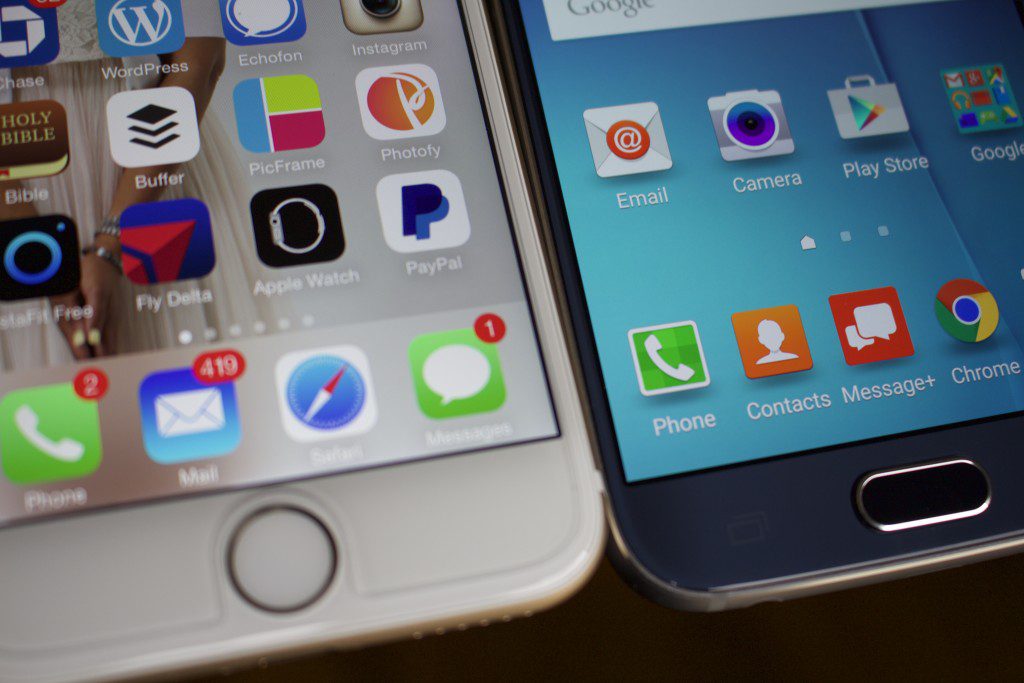 Displays: Great Meets Greater
Galaxy S6 – 5.1-inch QHD flat panel, 2560 x 1440 pixels, 577 pixels per inch (ppi), Super AMOLED display
iPhone 6 – 4.7-inch, 1334 x 750 pixels, 326 ppi, LED-backlit IPS LCD
Both screens can get incredibly bright; however, the fact is the Galaxy S6 takes what the iPhone 6 display is good at: brightness, contrast and colours and cranks it up to a whole new level.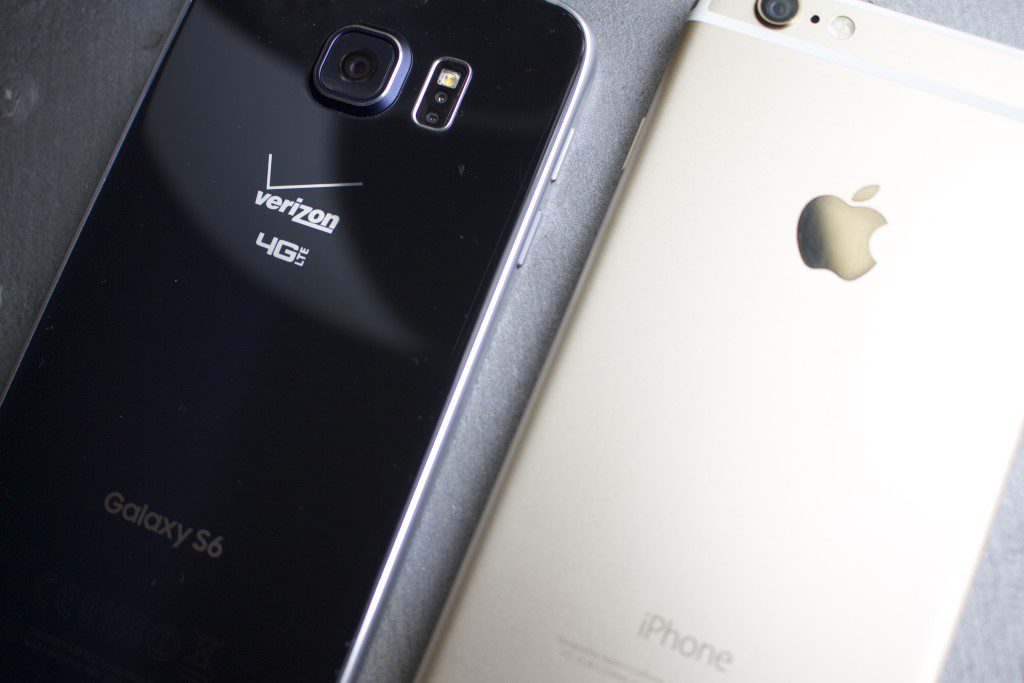 Internals:  Let's Talk Performance
Galaxy S6 – Samsung Exynos 7420 – CPU: Quad-core 2.1GHz and 1.5GHz CPUs; GPU: Mali-T760, 3GB RAM
iPhone 6 – Apple A8 – CPU: Dual-core 1.4 GHz Cyclone; GPU: PowerVR GX6450, 1GB RAM

Smile For The Camera:  Camera Specs
Galaxy S6 – 16 megapixel sensor, F1.9 lens, OIS, autofocus, LED flash – 4k video recording. Front: 5 megapixel sensor, F1.9 lens
iPhone 6 – 8 megapixel sensor, F2.2 lens, DIS, Focus Pixels, dual-LED flash – 1080p video recording. Front: 1.2 megapixel sensor, F2.2 lens
The 4k video feature on the Samsung Galaxy S6 is really appealing (especially since I'm trying to step up my YouTube game) But I'll admit, using my iPhone to film is incredibly easy and has great picture quality as well.  (I think a quality comparison test is in the works soon…)

All About That Bass:  Speaker Comparison
Sounds come through loud and clear with both bottom facing speakers (however, they don't compare to the HTC front facing speakers).  Don't expect too much in the bass department though.  If you're all about that bass, there's a wide assortment of Bluetooth speakers for that.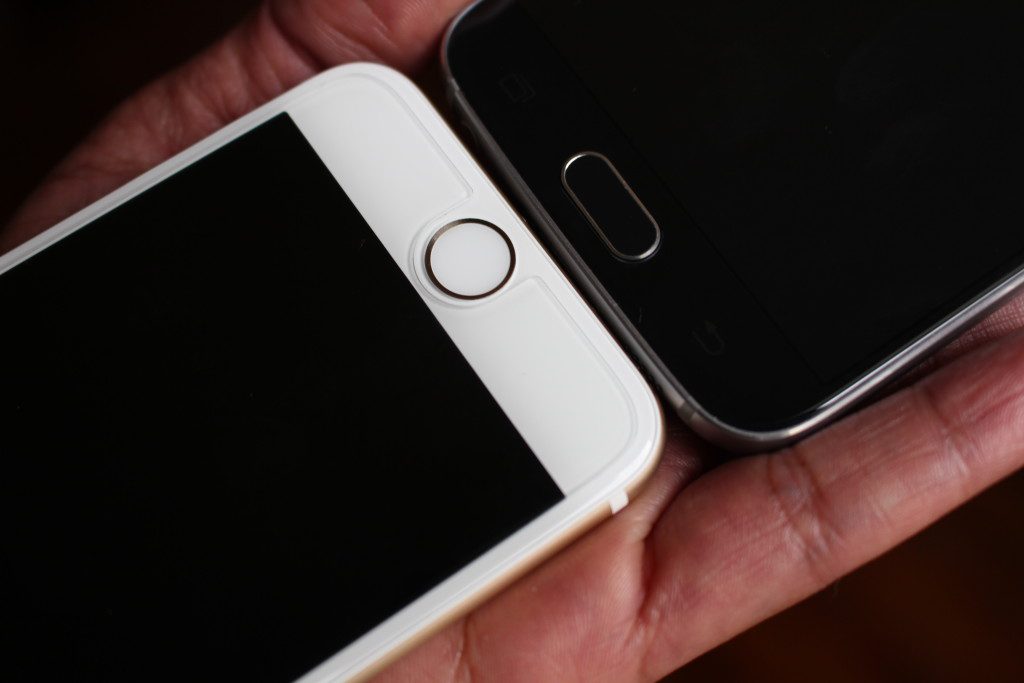 Everyone knows that the iPhone 6 will cost you a pretty penny, but did you know that (without contract) the Galaxy S6 is priced even higher:
Galaxy S6: $699 (32GB), $799 (64GB) and $899 (128GB)
iPhone 6: $649 (16GB), $749 (64GB) and $849 (128GB)
These are just a few of my initial impresions and I can't wait to follow up and give you more of my thoughts and experiences with both the iPhone 6 vs Samsung Galaxy S6 soon!  Do you have an iPhone 6 or Samsung Galaxy S6? Share your thoughts! Love it? Hate it? Drop your comments below and let us know!
Comments