It's almost that time of year again, the time of year when you find yourself frantically in search of the perfect last minute stocking stuffers and gifts for friends and family.  While you're out shopping for last minute stocking stuffers, check out CVS for beauty gifts (and earn rewards for yourself via the CVS Beauty Club) to give the gift of beauty and healthy looking skin no matter what the winter weather brings.  Since I'm a CVS Beauty Club member, I'm always stopping in to discover new beauty trends to try, and with locations practically everywhere, I'm sure to find something I love no matter who I'm gifting (like my latest buy – the CVS brand power cleansing brush below) quick, fast and in a hurry. Here are just a few of my tips when shopping for beauty gifts: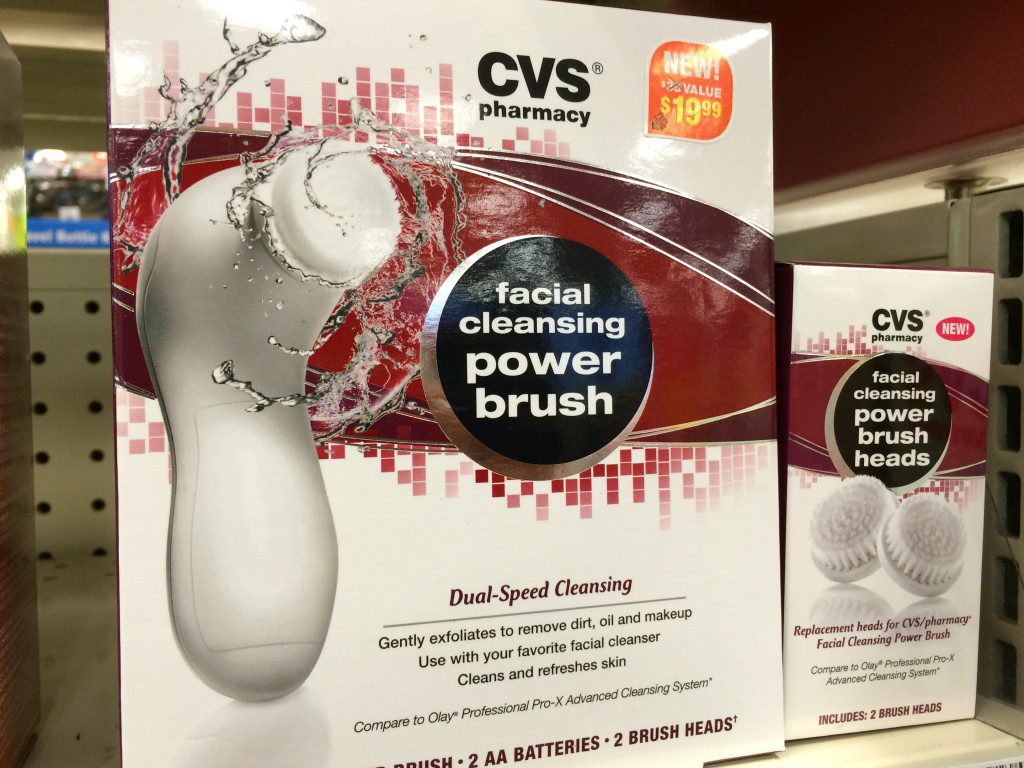 This power cleansing brush rivals the expensive brands and for only $19.99 – it's a must-have for the season!
Nurture your face and lips.
 The cooler months are hard on your face and lips. Not only are they exposed to cooler temperatures daily, behavioral habits like biting or licking your lips can also be damaging. People don't realize is that common behaviors such as drinking wine or coffee and eating salty or acidic foods can dry out the lips, but drinking plenty of water to stay hydrated and applying a moisturizing lip balm can help counteract the effects of these activities and improve your lip health.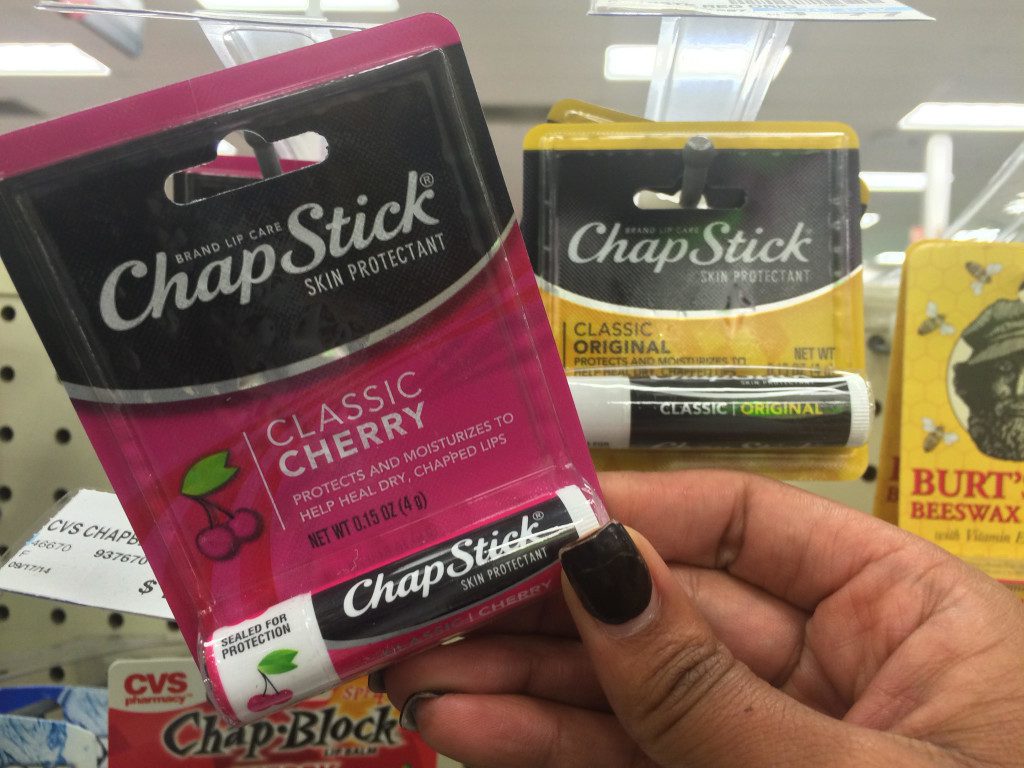 Everyone hates chapped lips! Buy ChapStick lip balms in stock for $1.99+ and fill those stockings to the brim.
Remember the time of day. Don't use the same skincare products for day and night. Instead, use products with protective, moisturizing benefits to guard your skin during the day. At night, switch to heavier creams that offer more hydration. Your skin will absorb this extra moisture while you sleep.
Protect your hands. Your hands are often left exposed during the cooler months, especially if the cold air has dried your skin, making gloves or mittens painful to wear. Make sure you check out products that contain shea butter and lanolin are great for counteracting the abuse your hands endure.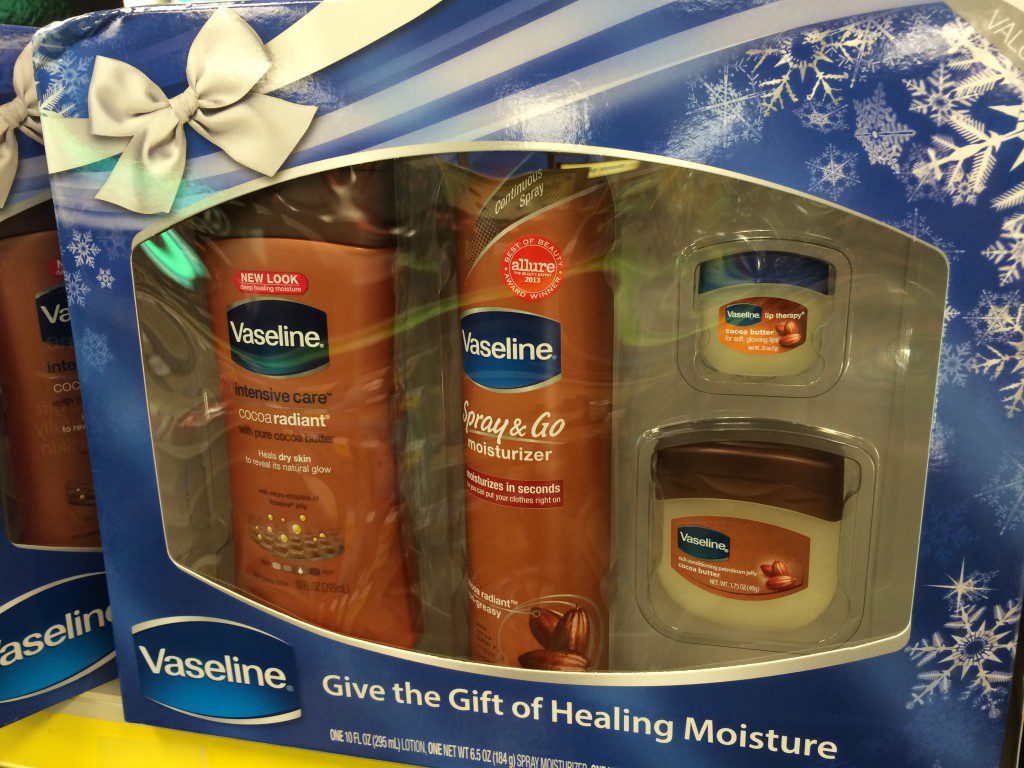 Moisturize right with a Cocoa Radiant Vaseline Gift Set from CVS for $9.99
On those coldest days when you're bundled in layers, remember your skin needs extra protection and these simple tips will help you with last minute stocking stuffer ideas and help your skin stay healthy during the cold weather season (well beyond the holidays).
The best part is if you're a Beauty Club member, you can save on these last minute gift ideas. As a member, you can earn $5 ExtraBucks Rewards for every $50 spent on qualifying beauty products including cosmetics, skincare, haircare/accessories and more! I've been shopping at CVS for years, but now I love shopping at CVS even more for the amazing Beauty Club ExtraBucks Rewards that I score. From last minute lip colors to styling tools in a crunch, everytime I score a $5 ExtraBucks Reward it comes in handy for my next purchase. Click here to sign up for CVS Beauty Club, you could be saving on your next holiday gift today!
Looking for more last-minute gift ideas? CVS Beauty Club offers access to new beauty products from leading brands, including dermatologist-approved brands in the Healthy Skincare Center and exclusive-to-CVS brands like Essence of Beauty, Makeup Academy and the Nuance Salma Hayek beauty collection too. CVS also has amazing gifts like bath robes , chic jewelry boxes and more all under $20! With convenient locations, you can easily discover last minute gifts for the entire family!
For more on what CVS Beauty Club has to offer for your holiday needs, check out CVS.com and get social on Facebook and Twitter.
Comments