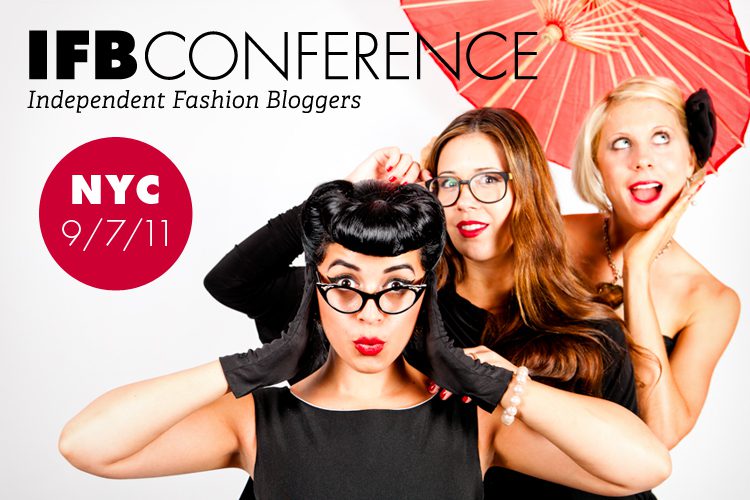 IT'S BAAAACK! IFB Conference on Sep. 7, 2011 at Milk Studios in New York City. Whether you just launched your blog or already have a bevy of readers, this is the event to mingle with fellow bloggers while learning how to take your blog to the next level (i.e. the top!)
Last NYFW, the IFB Conference brought together over 300 fashion bloggers while 10,000 viewers tuned in from around the world via live stream. Be a part of this monumental event as the sixth semi-annual IFB Conference continues to unite fashion bloggers and examines the evolving influence of the online blogging community. Top fashion bloggers will discuss hot-button blogging issues and a keynote speech from a major industry pro will cap the day's events. Some of the panel discussions will include:
Evolution of Fashion Media
Gone are the days when fashion media was all about glossy magazines and red carpet photos. As mainstream media moves online, how do blogs differentiate themselves from fashion sites? This panel–an IFB Conference first–will touch on this and more.
Bloggers Tool Kit
Learn how to promote yourself through social media and find out which metrics work best for bloggers. Are Twitter and Facebook really all that effective? Find out here.
Is the Social Media Business broken?
Critics say that social media is dying ,but perhaps it's just broken. This panel will discuss the role bloggers play in the social media landscape and what the future holds for this rapidly-changing form of media.
Balancing Act: Business & Blogging
Need tips on how to approach brand partnerships gracefully? We've got you covered. We'll be discussing the relationship between PR/Marketing/Advertising and bloggers, as well as delving into the subject of ethical blogging practices.
More information about the panels, speakers, and keynote address will be available once General Admission tickets are released.
TICKET INFORMATION
General admission tickets are available now for $60 (while tickets last)
* A limited number of Non-IFB Member/Corporate tickets will also be available at an early bird rate of $299 starting Monday, August 8. Price will go up to $499 starting Monday, August 15, or once early bird tickets sell out.

Registration price includes a full day of panels, lunch and fabulous gift bag!
Can't make it to NYC? Check out the Live Stream on September 7!
Check out Independent Fashion Bloggers at www.heartifb.com