In the ever-evolving world of electric vehicles, the 2023 Chevy Bolt EUV shines as a beacon of efficiency, style, and advanced technology. As Chevrolet's flagship electric vehicle, the Bolt EUV is designed to redefine your driving experience with its impressive range, cutting-edge features, and sleek design. Get into the exciting details that make the 2023 Chevy Bolt EUV a top contender in the electric vehicle market below.
Before stepping foot inside, I was able to schedule a customized virtual walkthrough with the Chevy Bolt EUV, compliments of the Chevy MyWay digital studio experience.  During the walkthrough the amazing product specialist, Jordan personally highlighted many of the unique features that you can only find in the 2023 Chevy Bolt EUV Premier.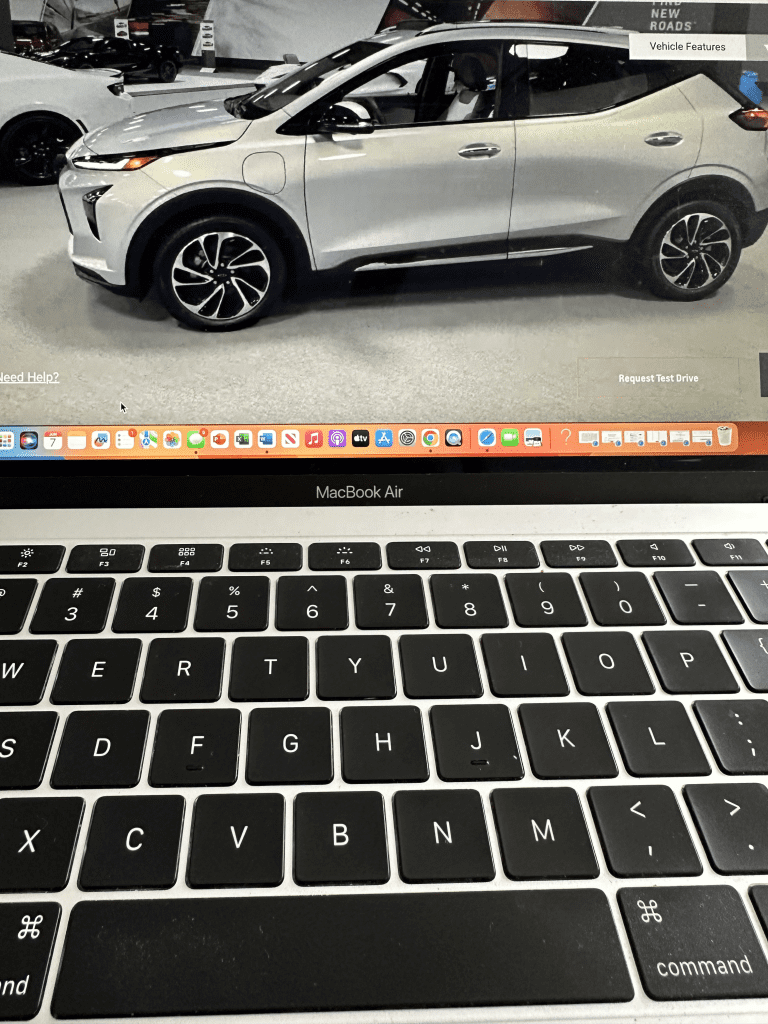 Aesthetics That Turn Heads:
The Bolt EUV boasts a modern and refined exterior that catches the eye. Its aerodynamic lines, sculpted body, and bold front grille give it a distinctive presence on the road. With LED lighting and sleek alloy wheels, this electric vehicle stands out as a true symbol of elegance.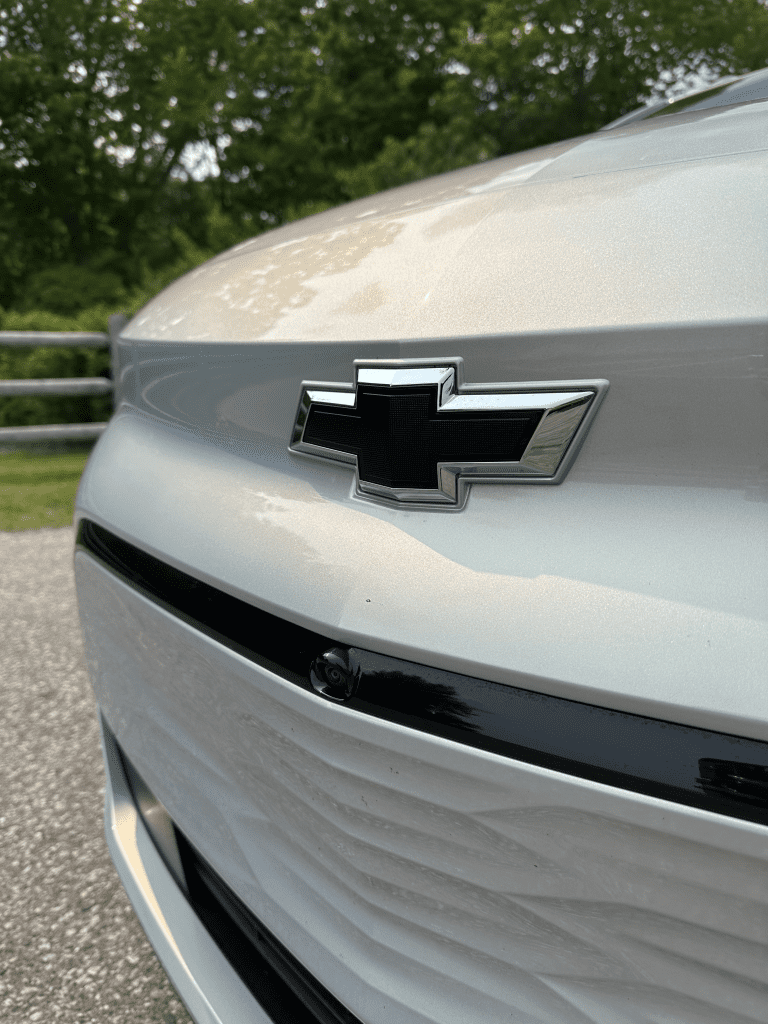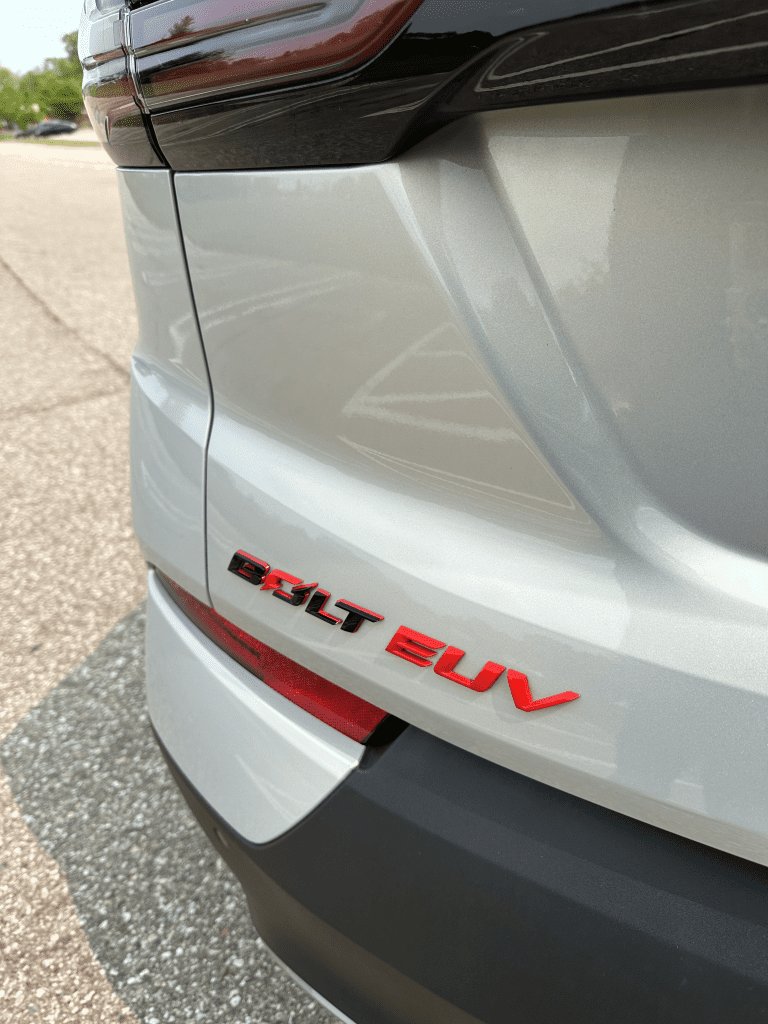 Enhanced Electric Performance:
Equipped with an improved battery system, the 2023 Bolt EUV offers an extended range that puts range anxiety to rest. With an impressive estimated range of just about 247 miles, you can confidently embark on long journeys without worrying about recharging frequently. One of my favorite and easy to use features hands down (or hands up) has to be the one-touch Super Cruise hands-free driver assistance with lane-centering and automatic braking technology (available on the majority of roads in the US and Canada.) Long gone are the days of cruise controling with multiple buttons, accelation challenges and manual braking.  With Super Cruise you can easily access the driving technology you need at the press of one button.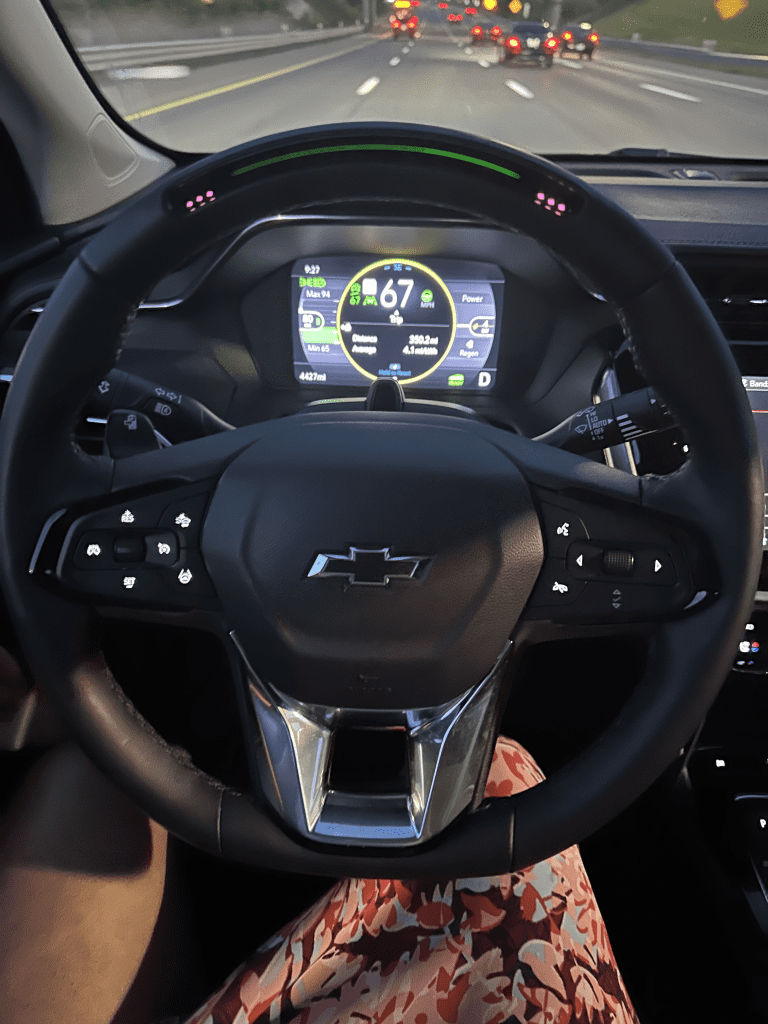 The Regen On Demand electric feature offers a unique way to convert energy used into energy saved (and stored) for future use with the simple pull on the steering wheel mounted paddle.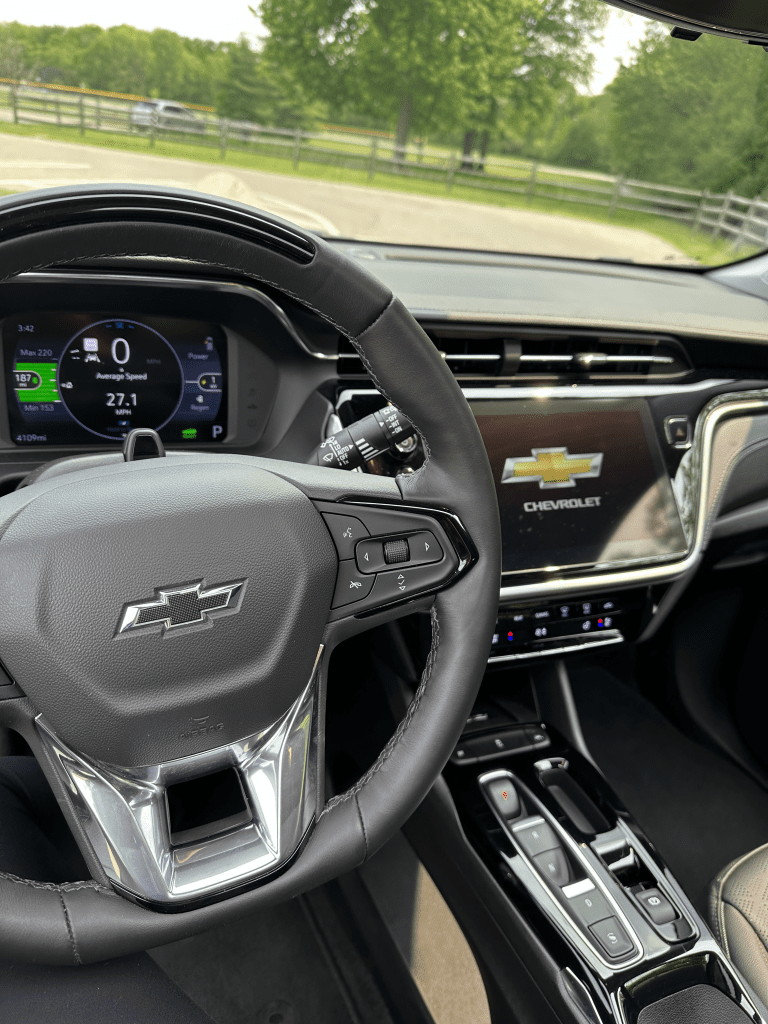 Cutting-Edge Technology:
Chevrolet has spared no effort in outfitting the Bolt EUV with advanced technology that enhances both convenience and safety. The Chevy Infotainment System, featuring a large touchscreen display, seamlessly integrates with your smartphone through Apple CarPlay and Android Auto. Additionally, the available 4G LTE Wi-Fi hotspot ensures you stay connected on the go.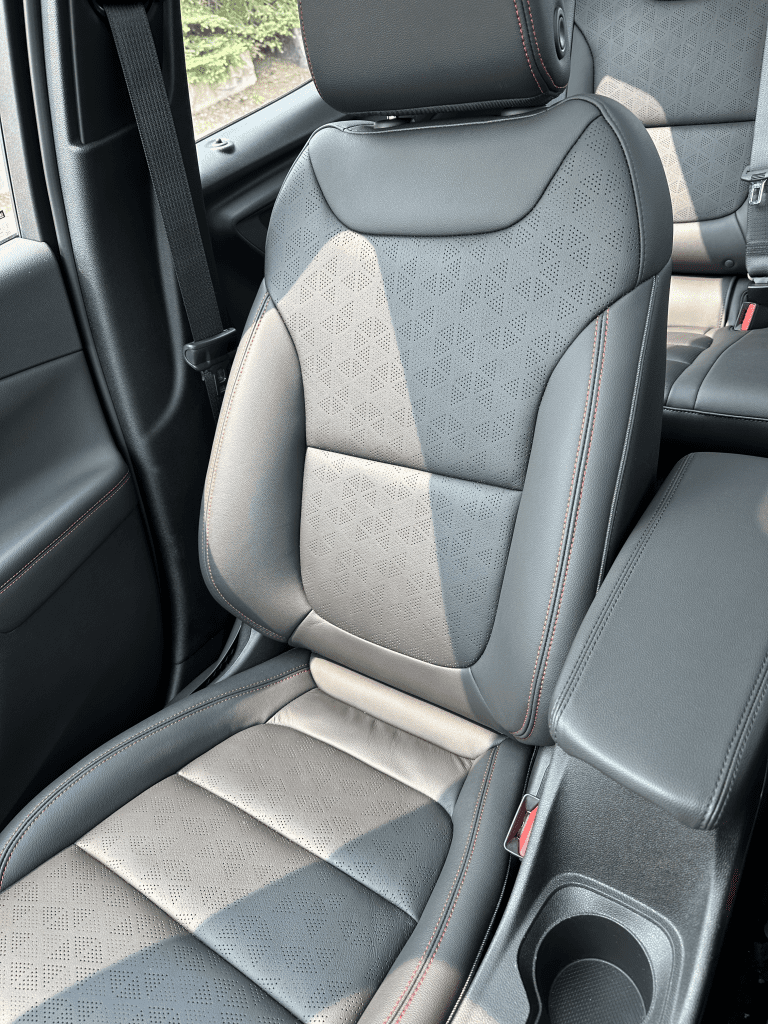 Interior Comfort and Versatility:
Step inside the 2023 Bolt EUV, and you'll be greeted by a spacious and meticulously crafted cabin. With comfortable seating for up to five passengers and ample legroom, every journey is an enjoyable one, whether its around the corner or an hours-long drive. The versatile cargo space allows for easy customization, accommodating your everyday needs, whether it's groceries or luggage for a weekend getaway.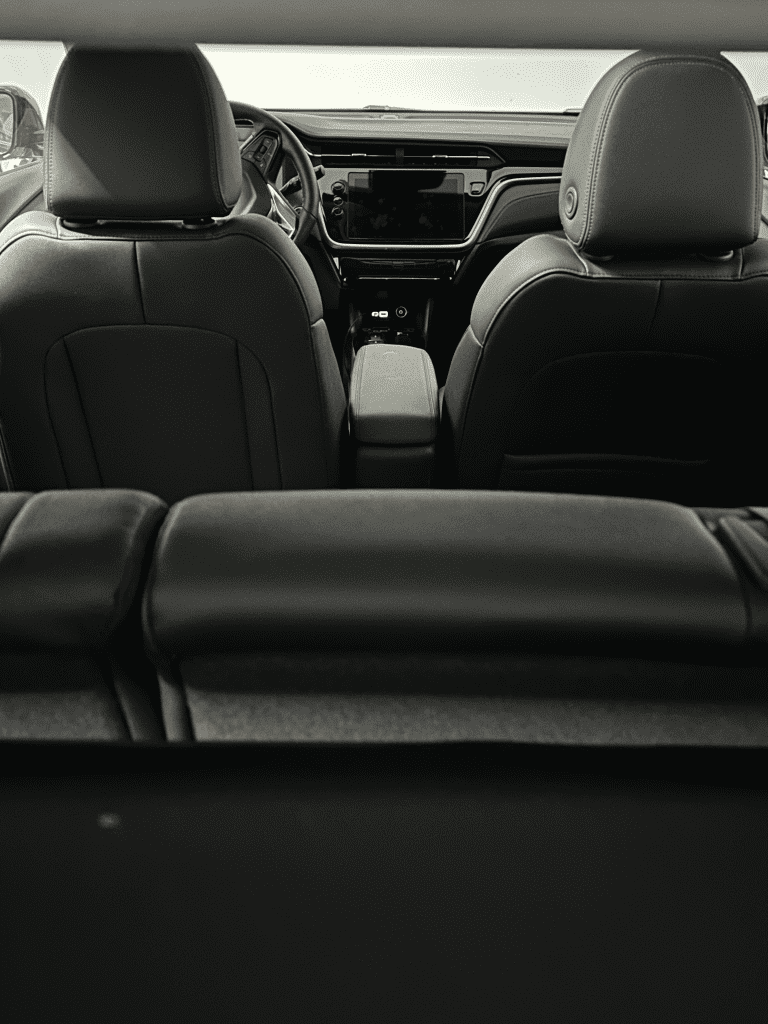 Safety Features You Can Rely On:
Safety is a top priority in the Bolt EUV, with an array of advanced safety features designed to protect you and your passengers. The available Driver Confidence Package includes features such as Forward Collision Alert, Lane Keep Assist with Lane Departure Warning, and Automatic Emergency Braking, providing you with added peace of mind on the road.
Did you know that Chevy even offers complementary home charging outlet installation for most standard outlets with the purchase or lease of a 2023 Chevy Bolt EUV? As someone who's still holding out on installing a home charging system cause she's shopping for a great deal, it doesn't get any better than this!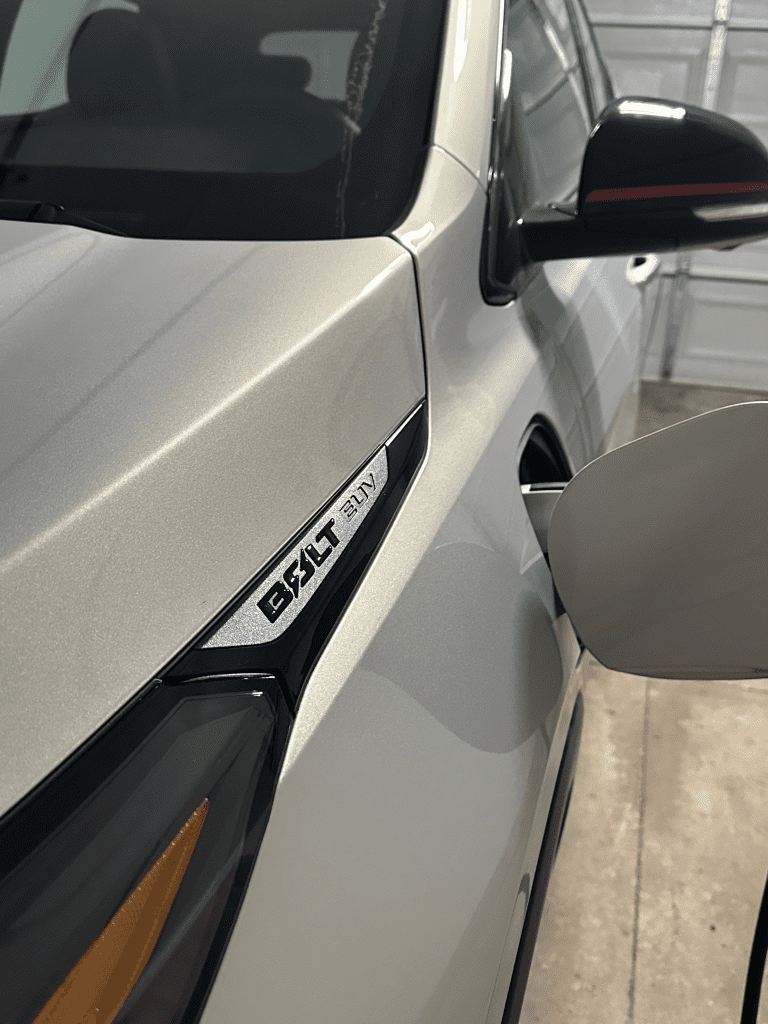 The 2023 Chevy Bolt EUV represents the pinnacle of EV technology, blending efficiency, style, and cutting-edge features seamlessly. With its impressive range, advanced technology, and comfortable interior, this electric vehicle is certain to elevate your driving experience. Whether you're a tech enthusiast or an eco-conscious driver, the Bolt EUV delivers on all fronts. Once you get behind the wheel of this exceptional electric vehicle you'll instantly discover the joy of EV driving without sacrificing performance or style. The Chevy Bolt EUV Premier starts around $32,000 with additional premium features that can range closer to $38,000 — for more information visit chevrolet.com/electric/bolt-euv