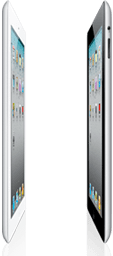 Now that the iPad 2 has been officially announced, let's dive into some tips and tricks that you can use to personalize your iPad and make it more efficient.  (Hint:  You can use these tricks on the iPad that you can ENTER TO WIN HERE too!)
5.  Quick Mute – So you're at your desk at work watching a YouTube tutorial on how to apply your new red lipstick and your boss waves from the office and begins heading your way.  Instead of scrambling to turn down the volume – just simply press and hold the volume down button on the side of the iPad.  Within two short seconds you will be regaled with the sweet sound of silence and can pretend to be working on that report….
4.  Dock more apps for easy accessibility – Your iPad normally keeps 4 apps docked for your convenience.   As easy as you can rearrange the apps on your homescreen (By pressing & holding an app until the surrounding apps "shake") Once the apps shake you can drag the selected app down to the dock and press the home button to lock it into place.
3. Safari Quick Zoom – When you're on a webpage with columns, you can quick-zoom by double-tapping on the column (just don't tap the link or else you'll end up opening it and not zooming in on the page.)  When you're finished with the reading, just tap again to quick zoom out.  (Pinching to zoom in and out still works, however the double-tap is quicker and more accurate.)
2.  Transport Scroll to the Top – You're online perusing through a lengthy article about the Spring trends for flirty fashions in Paris and now you remembered that there was an interesting contest link at the top of the article…instead of scrolling and scrolling and scrolling up to the beginning – there's a quicker way to the top.  Just tap the Status bar located at the very tip-top of the iPad screen and there you are!  Within Safari, Mail and Notes you can use this time-saving gen.
1.  Forced re-boot – Sometimes in everyone's life a little frozen iPad must fall.  When this happens don't fret.  You can do a forced re-boot of the system.  Simultaneously press and hold the Sleep/Wake (aka Power) buttons until everything powers down.  Just ignore the "slide to power off" message and keep holding!  This only takes a few seconds.  Now that the iPad is off, press the Sleep/Wake button to start your refreshed iPad up again.

This is just a short list of tricks that you can use — make sure to check back as we'll have more tricks soon!