Last week, many of the nation's best journalists, bloggers and automotive influencers gathered in Malibu, California to get behind the wheel of the newest model cars and trucks.  It's no secret that when it comes to shopping for cars, most women buyers like to seek out car buying information from other women – and that's just one of the reasons why Heels And Wheels is here!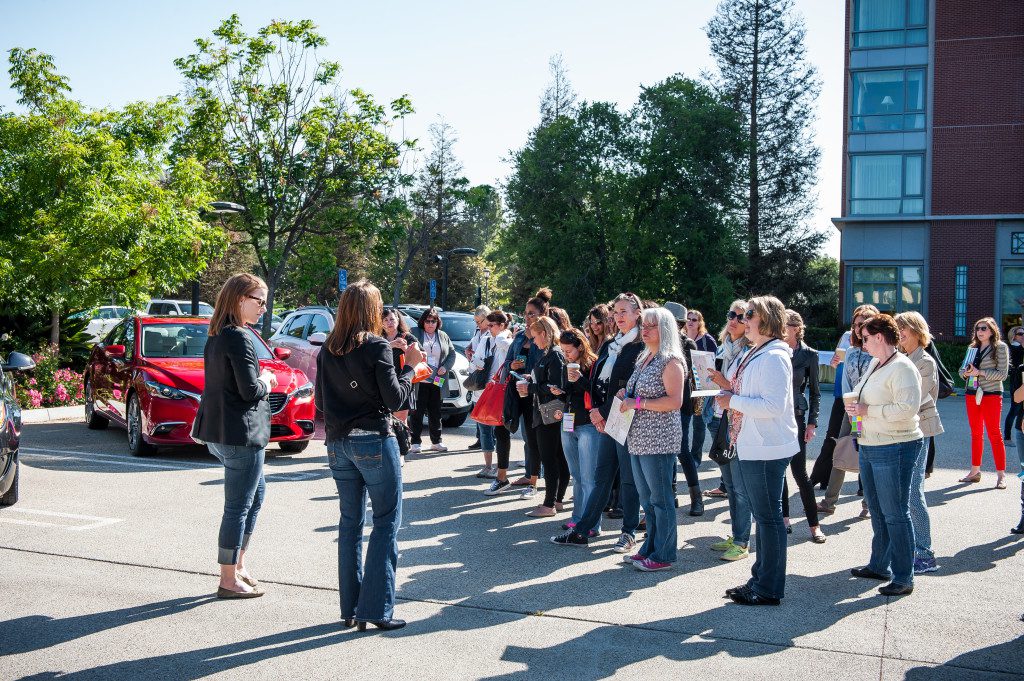 Throughout the 2-Day experience, women automotive enthusiasts had the chance to network with colleagues, brand specialists and drive, drive, drive the latest brand releases from Dodge, Jaguar, Land Rover, GMC and more!  With coastal drives spanning from LA into the winding mountains via Mulholland Drive – I can admit that this drive was unlike any other experience before.  I got reintroduced to the 2015 Dodge Charger and Challenger while meeting the likes of the 2015 Jaguar F-TYPE R Coupe and 2016 Mazda6 for the first time.
Check out a few of my favorite "first impression" moments with my top picks from Heels And Wheels 2015 below:
2015 Jaguar F-Type R Coupe
2015 Jaguar F-Type R Coupe – First impressions:  This car has all the sex-appeal in the world bundled up in a road raging coupe on wheels. While driving 0-60 in 4 seconds, you'll definitely feel like a Bond girl from your favorite 007 film making a smooth getaway to your happily ever after. After driving this $102k coupe, it's going to be hard driving anything less than stellar again.  [Full review coming soon.]
2015 GMC Canyon SLE
2015 GMC Canyon SLE – First impressions:  This truck is far from your daddy's average GMC. Fueled with the best in highway efficiency, horsepower and roomy interior to boot – you'd think that this truck has everything for your storage and towing needs.  But as the first midsize truck to offer a built-in 4G LTE connection, you'll soon realize that the GMC Canyon offers so much more, including your very own office on wheels.  [Full review coming soon.]

Starting MSRP: $20,955
Engine/Layout: 3.6L DI DOHC V6 VVT, 4WD
Horsepower: 305/227 hp @6800 rpm
Fuel Rating: 20 city/24 hwy/17 combined
2016 Mazda6
2016 Mazda6 – First impressions:  As a first time Mazda driver, I'll admit that I had preconceived notions on what to expect.  I never envisioned a Mazda being the type of car that I'd enjoy driving.  But all of those notions flew out the window the moment I stepped behind the wheel of the 2016 Mazda6! Filled with plenty of upgrades without the additional costs, it's truly a 184 horsepowered, curve-hugging speed machine disguised a family sedan – an the ultimate cure for the common drive.    [Full review coming soon.]
Starting MSRP: $21,495
Engine/Layout: 2.5L SKYACTIV-G 4-Cyl/2WD
Horsepower: 184 hp @5,700 rpm
Fuel Rating: 28 city/40 hwy/32 combined
In addition to these picks, I got the chance to drive many other vehicles for the first time and I'm looking forward to sharing those drives with Volkswagen, Nissan, Mitsubishi, Lexus, Land Rover, Kia, Infiniti plus many more on DivasDriveInHeels.com soon!