Hey guys – I'm reporting live from the BET Awards here at the Shrine Auditorium in Los Angeles.  Check out the Ford Social Media Lounge, LIVE @DIVASANDDORKS tweets and the #BETAwards hashtag for the latest news, interviews and backstage excitement.
SEE WHAT TWITTER HAS TO SAY…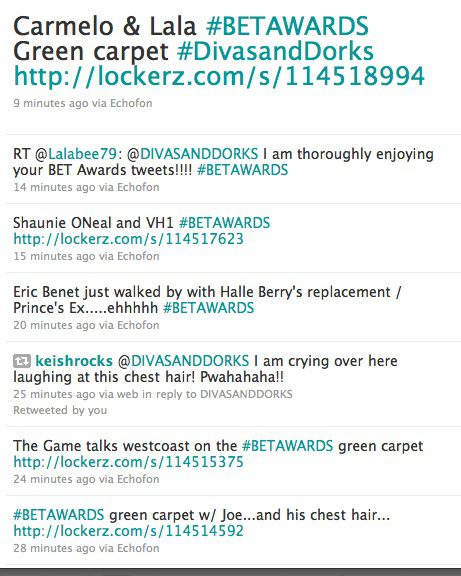 FULL RECAP:
The hilarious Kevin Hart kept the crowd laughing out loud as a Hollywood House Husband during the BET AWARDS '11 opening act with Bobby Brown, Jermaine Dupri, Anthony Anderson, Nelly, and Nick Cannon. Chris Brown's powerful performance medley of "She Ain't You," "Look at Me Now," and "Paper Scissor Rock" illustrated just why he was named the 2011 Best Male R&B Artist, Video of the Year, Best Collaboration, and Coca-Cola Viewer's Choice Award winner when he took to the stage in two performances collaborating with Busta Rhymes and Big Sean.  Later, a precocious Justin Bieber propositioned Nicki Minaj on stage when he said, "I'm all grown up now. I turn 18 next year so…what's up?"
Legendary songstress and diva extraordinaire Patti LaBelle was the recipient of the Lifetime Achievement Award and her tribute was a performance unlike anything ever seen before.  Beginning with a special introduction from another musical icon, Gladys Knight, Cee Lo Green took to the stage in a throwback Patti LaBelle costume performing "Somebody Loves You Baby," while Marsha Ambrosius jazzed up the room with her spot on rendition of "If Only You Knew," before the great Shirley Caesar took the crowd—and Patti LaBelle—to tears singing "You Are My Friend." But it was Patti herself that brought the house down performing two of her greatest hits, "Love, Need and Want You" and "Lady Marmalade." Steve Harvey uplifted the audience in his acceptance speech for his Humanitarian Award.
The cast of the Five Heartbeats movie surprised the audience with a reunited performance with R&B crooners After 7 with the famous hit, "Nights Like This," for the 20-year anniversary of the film. The beautiful Kerry Washington graced the stage for BET's Shine A Light moment to honor individuals who make the world a better place for young people.
Celebrating the 10-year Anniversary of her first album, Songs In A Minor, Alicia Keys graced the BET AWARDS '11 stage for a medley of her hits with Bruno Mars and Rick Ross as well as for the world premiere her latest song, "Typewriter."
Additional highlights of the 14 performances include: Trey Songz sexy, shirt-ripping rendition of "Making Love Faces" and "Unusual," and was later joined by Kelly Rowland to perform her smash hit, "Motivation," Donnie McClurkin, Deitrick Haddon and Mary Mary uplifted the audience with their rendition of the gospel hit, "Thank You Lord," in tribute to the late Walter Hawkins; Mary J. Blige, Anita Baker, DJ Khaled, and Jadakiss kicked off the show with a monumental mix of hits "All Night Long," "Joy," "Happy," Dreams," "Real Love," "Rapture," and "Over Til It's Over"; Jill Scott performed a soulful rendition of "Rolling Hills" with actor and DJ Idris Elba;  DJ Khaled, Rick Ross, Drake and Lil' Wayne amped the crowd performing "I'm the One"; and Beyonce "emailed BET a Pre-recorded performance" singing "Best Thing I Never Had" and "End of Time" via live telecast from Britain's Glastonbury Festival.
This year's In Memoriam tribute celebrated the lives of Cali Swag District member M-Bone, Clarence Clemons, Teena Marie, Gil Scott Heron and Nate Dogg with performances and appearances by Doug E. Fresh and Cali Swag District, Queen Latifah, Ledisi, Scott Mayo, Snoop Dogg and Warren G.
In continuing the good that BET's S.O.S.: Saving Ourselves initiative has made over the years, the BET AWARDS '11 contained a special moment to show support for the victims of the tornadoes in the Southeast through a special message from Rev. Al Sharpton.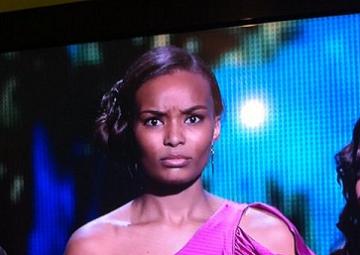 We all remember the most OMG moment of the BET Award show night. Tiffany Green – A fan tonight on the BET Awards mixed up Rihanna and Drake for the Viewer's Choice award, when it was indeed Chris Brown. The audience was in complete shock. BET executive Stephen G. Hill admitted to being the "human"  error and apologized.
The award was initially presented on stage by Tiffany Green, a contest winner. Reading from an HTC Evo View 4G tablet, which all presenters used to announce winners, Green first declared Chris Brown the winner, then quickly backpeddled and said the award went to Rihanna.
Terrence J, who was also on stage, then presented the award to Drake, only to have show host Kevin Hart give the award back to Brown at the end of the broadcast. – AWKWARD…
Green explained on Twitter that the tablet had said Chris Brown, but the teleprompter had said Rihanna, hence the on-stage change up (and Drake in turn accepting the award for the song he collaborated with Rihanna on, which seemed to confuse Jenkins). The AP captures the series of events in this video:
In addition to all of these OMG moments, the full list of BET AWARDS '11 winners are:
Best Female R&B Artist: Rihanna
Best Male R&B Artist: Chris Brown
Best Group: Diddy-Dirty Money
Best Gospel Artist: Mary Mary
Best Female Hip Hop Artist: Nicki Minaj
Best Male Hip Hop Artist: Kanye West
Best New Artist: Wiz Khalifa
Best Collaboration: Chris Brown f/ Lil Wayne and Busta Rhymes "Look At Me Now"
Video of the Year: Chris Brown f/ Lil Wayne and Busta Rhymes "Look At Me Now"
Video Director of the Year: Chris Robinson
Best Actress: Taraji P. Henson
Best Actor: Idris Elba
Young Stars Award: Jaden Smith and Willow Smith
Best Movie: For Colored Girls
Subway Sportswoman of the Year: Serena Williams
Subway Sportsman of the Year: Michael Vick
Centric Award: Marsha Ambrosius "Far Away"
Best International Act: 2Face Idibia (Nigeria) and D'Banj (Nigeria)
Coca-Cola Viewer's Choice Award: Chris Brown f/ Lil Wayne & Busta Rhymes – "Look at me Now"
Humanitarian Award: Steve Harvey
Lifetime Achievement Award: Patti LaBelle