This post was sponsored by Sony through their partnership with POPSUGAR Select. While I was compensated to write a post about The Wedding Ringer, all opinions are my own.
Everyone loves weddings, it's one of those joyous occasions that create cherished memories for the Bride, Groom, family and friends forever! Weddings are steeped in tradition – no matter whom you are or where you live. Plenty of brides and grooms search for ways to make their special day as unique and special as they are. No matter if you're the bride, groom or the best man, here's a few ways (inspired by the new movie – The Wedding Ringer) that will help you put your own special spin on your upcoming special day and make it truly unforgettable below.
A guest book you'll actually use. Signing the guest book is one of the most common traditions found at weddings (you've probably signed a few in your lifetime.) Break from tradition by creating a guest book you'll actually use for years to come. Find a great coffee table book that interests both the bride and groom and claim it as your guest book! Your wedding guests can sign their names in the margins and afterwards you'll be left with a functional guest book to display for visitors and friends for a long time.
Looking to create a one-of-a-kind wedding experience? Whether you host a reception indoors or out, its all about the dance! You can rent a dance floor from a local rental facility and dance underneath the stars or choreograph an epic dance routine that will live on forever! Check out this hilarious first dance video starring the groom and his best men below.
Treasure the memories.
Get your guests involved in the event by placing blank cards and pens at each seat location. Ask your guests to write about their favorite memory of you and/or your spouse. Collect all of these cards and turn them into a scrapbook for a treasured keepsake. Don't forget that photos make the best treasured memories.  You can also practice your best photobomb and create your special "fake"moments with your best man (just like in the movie) with 
weddingringerphotobomb.com
.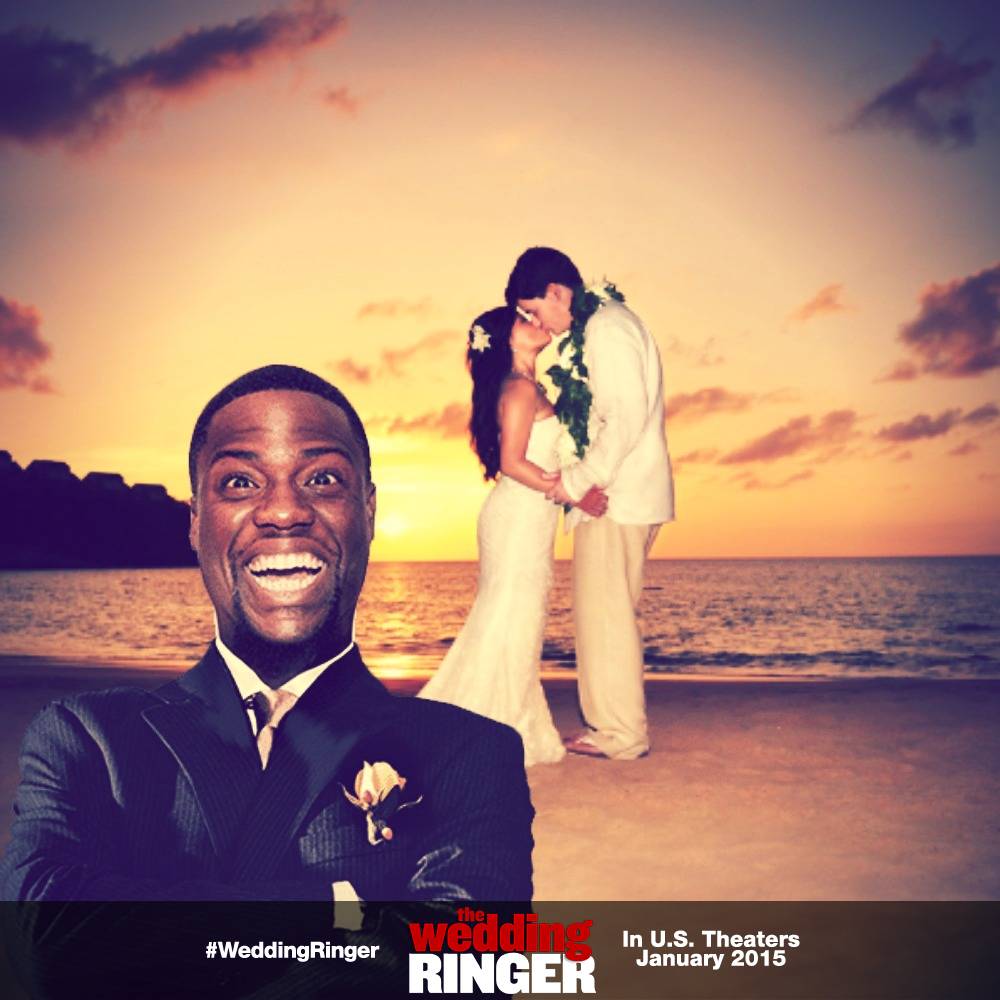 Remix The Menu. Ditch the chocolate fountains and opt for unique snack options you can include in your special day. If you're getting married in the blistering heat, rent a snow cone machine to offer your guests some sweet relief. If you and your spouse are big movie buffs or your wedding has a Hollywood theme, rent a popcorn machine to complete the look. For more foodie ideas you'll love, from the family dinner to the reception check out the trailer for The Wedding Ringer below:
Synopsis
:
 Doug Harris (
Josh Gad
) is a loveable but socially awkward groom-to-be with a problem: he has no best man. With less than two weeks to go until he marries the girl of his dreams (
Kaley Cuoco-Sweeting
), Doug is referred to Jimmy Callahan (
Kevin Hart
), owner and CEO of Best Man, Inc., a company that provides flattering best men for socially challenged guys in need. What ensues is a hilarious wedding charade as they try to pull off the big con and an unexpected budding bromance between Doug and his fake best man Jimmy.
 The Wedding Ringer hits theaters nationwide January 16th 2015.
Want to see more exclusive content?  Check out The Wedding Ringer on Facebook and Twitter and subscribe to Sony Pictures for a first look at more hilarious fun from The Wedding Ringer today.

Comments