We're in a haze of a season where the cold winter weather just doesn't want to let us go… (it's like old man winter is an ex-boyfriend that doesn't quite understand that he's an EX for a reason…)  In an attempt to celebrate "Mani Monday" and change the only environment that we can control, I've round up my favorite Spring hue colors that will help usher in the warmer months sooner than later.
Essie "Fashion Playground"
This week's fingertip favorite is by Essie.  Essie's "Fashion Playground" in a mint pistachio hue is a great pop of color that covers extremely well.  From the tips of your fingers to your toes – this fun, creamy color reminds me of sunny days, palm trees and the pastel architecture of Miami Beach.
Ruffian Nail Lacquer in "Delirium"
If you're daring and pastels aren't quite your thing, the designer Ruffian nail lacquer in "Delirium" may be right up your alley.  Not quite as dark as it seems, it's a bold take on the popular purple color of the year.
OPI Nail Lacquer in "Don't Pretzel My Buttons"
In case you need to take a break from bold colors, OPI's nude hue " Don't Pretzel My Buttons"  is a great alternative for a clean and classic Spring manicure.
INGLOT O2M Breathable Nail Enamel
Go for a punch of color with INGLOT's O2M breathable nail enamel in this punchy coral hue.  This shade in "622" is the type of color that goes great with the latest season's bright and bold tones and will carry well into the summer months.  Plus, the formaluhyde free formula allows moisture and oxygen to pass through to keep nails in the best condition.
Morgan Taylor's "New Kicks On The Block"
My latest mani obsession involved the "New Kicks On The Block" pastel shade by Morgan Taylor.  I loved it so much that I had to share a mani Monday moment a few weeks ago with my favorite poochie girl… my darling pet chihuahua Phoebe.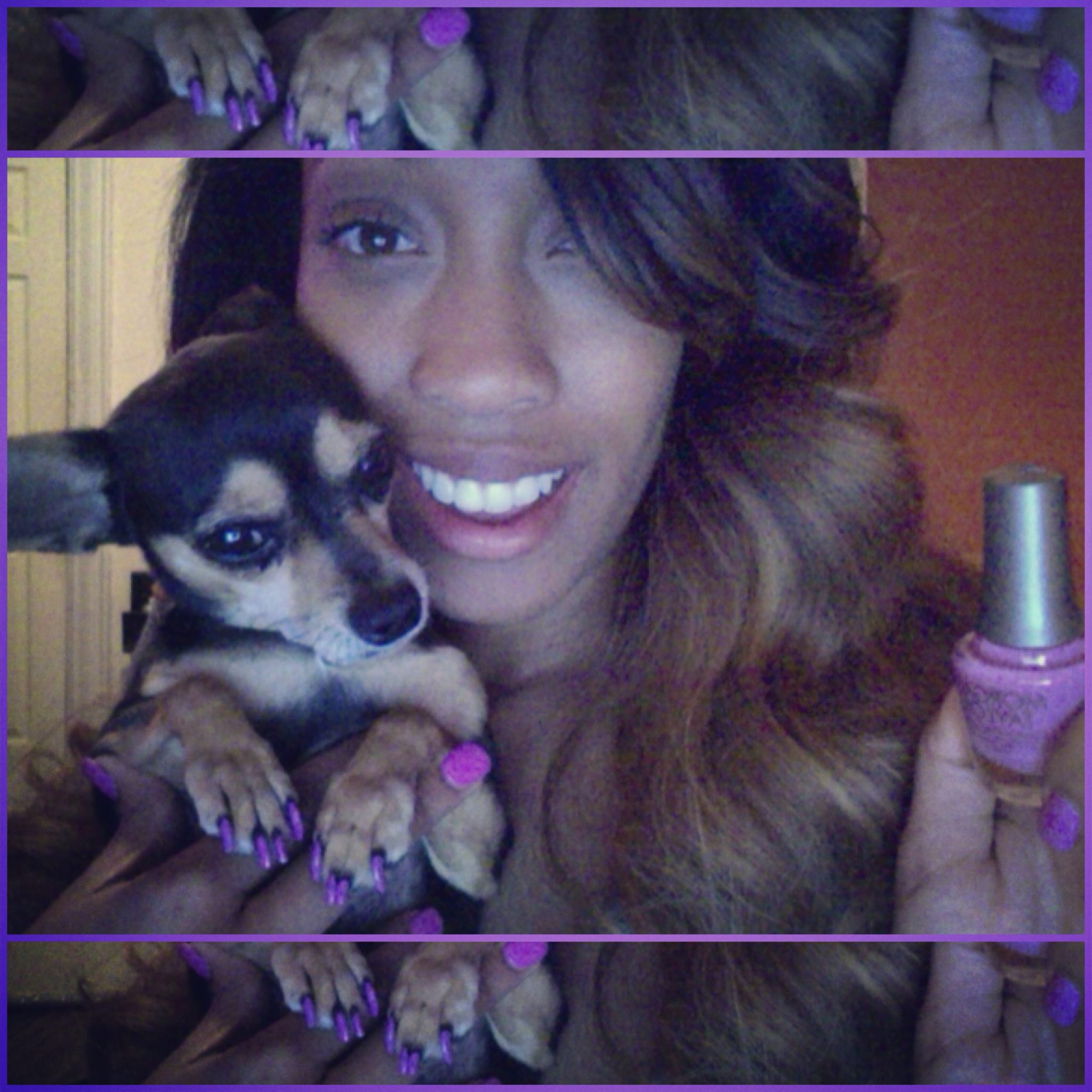 This is the perfect warm weather take on Pantone's color of the year "Radiant Orchid".  It is an expressive, creative and embracing purple—one that draws you in with its beguiling charm and leaves a fresh long-lasting impression perfect for wearing all year long!
Not sure which shade suits you best?  Take the time to test out the season's hottest shades at retailers by using a swatch to test the coverage, pigments and real life shade – without buyers remorse.
Now that you've seen just a few of my favorite shades for the season, which shades are your current favorites?  If you're currently rocking your favorite shade in celebration of Mani Monday, share your current color situation (and why you love it) below.
Comments