Springtime is in full effect and you're still in you drab winter-mix?  Snap out of your wintertime blues and step up your Spring game to the max with these Spring trends and staples.  ELLE Magazine has provided the MUST HAVE list filled with textures and prints that will take your mild fashion to wild!  Finished off with exotic skins, intricate weaves, tortoiseshell trims, and mother-of-pearl details, these bags and shoes will turn anyone into a nature lover.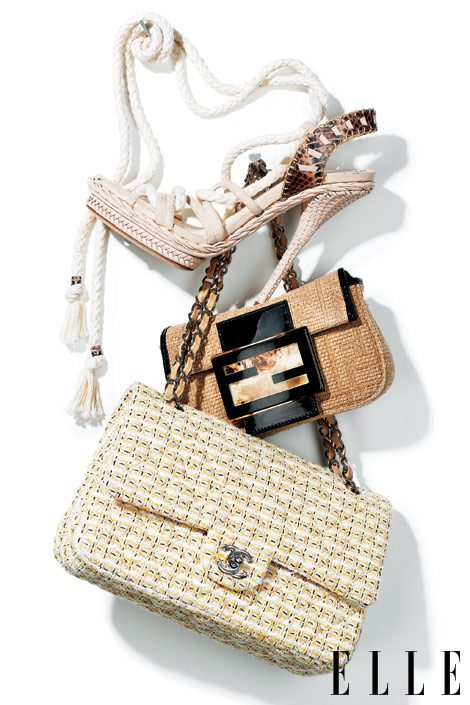 Leather, snakeskin, and suede sandal, Dior, $1,200, at Dior boutiques nationwide. Raffia bag with marble closure, Fendi, $935, at Fendi, NYC. Tweed bag, Chanel, $2,800, at select Chanel boutiques nationwide.
Photo: Dan Forbes
Wood wedge sandal, Emporio Armani, $475, at Armani/5th Avenue, NYC. Straw and calfskin tote bag, Balenciaga by Nicolas Ghesquière, $1,375, at Jeffrey, NYC, Atlanta. Wood bangles, Donna Karan New York, $950 each, at Donna Karan New York stores nationwide. Leather-trim raffia bag, Yves Saint Laurent, $1,650, at select Yves Saint Laurent boutiques nationwide. Printed leather perforated lace-up sandal, Proenza Schouler, $1,195, visit proenzaschouler.com.
Pink leather sandal, Givenchy by Riccardo Tisci, $1,130, collection at net-a-porter.com. Woven leather tote bag, Akris, $2,990, at Akris boutiques nationwide. Leather flap-front bag, Valentino Garavani, $1,795, collection at select Saks Fifth Avenue. Calfskin wedge sandal, Hermès, $1,425, at Hermès stores nationwide.
Lacquer and satin clutch with wood beading, Roger Vivier, $1,995, at Roger Vivier, NYC. Sparkle tweed flap-front bag, Mulberry, $950, at Mulberry, NYC. Resin cuff, Louis Vuitton, $1,975, at select Louis Vuitton locations nationwide. Leather shoe, Ralph Lauren Collection, $750, at select Ralph Lauren stores nationwide. Hand-stitched leather bag, Gucci, $3,300, at select Gucci stores nationwide.
Woven sandal with wooden platform, Dolce & Gabbana, $925, at select Dolce & Gabbana boutiques nationwide. Lambskin wristlet bag, Chloé, $875, at select Nordstrom stores nationwide. Woven silk and lambskin tote bag, Céline, price on request, collection at Barneys New York. Suede lace-up sandals, Tod's, $565, at Tod's boutiques nationwide.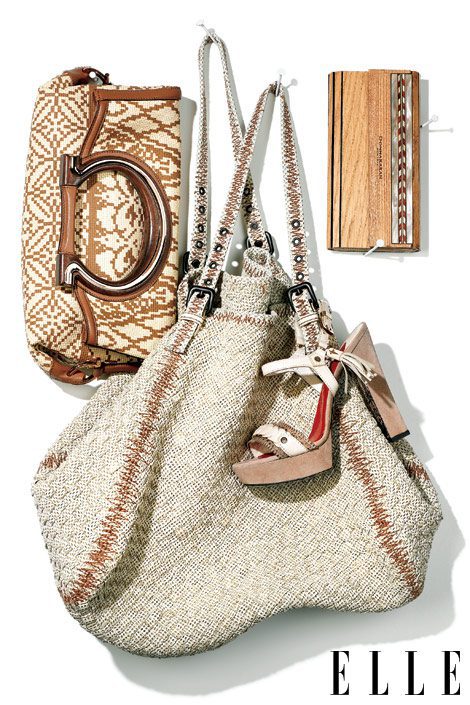 Cream and camel woven clutch bag, Salvatore Ferragamo, price on request, at Salvatore Ferragamo boutiques nationwide. Woven leather tote bag, Bottega Veneta, price on request, at select Bottega Veneta boutiques nationwide. Suede and leather sandal, Cesare Paciotti, $680, at Cesare Paciotti, NYC. Marquetry clutch, Donna Karan New York, $695, at Donna Karan New York stores nationwide.