You've seen the commercials and immediately thought what is that?
Is it a smartphone?    Yes!!!

Is it a Laptop?    Yes!!!

Wait is it a TV?   YES!!!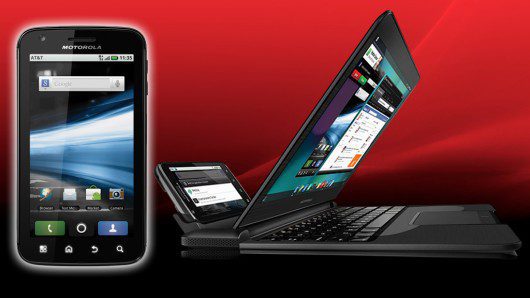 It's All of the above, The New Motorola Atrix 4G, is the Winner of the 2011 CES Best of Smartphone Awards.
What makes this the Best of its class, Maybe the Two Processors running at 1GHz a First for Motorola or the Revolutionary WebTop Application that enables mobile computing by docking it to your Laptop, Desktop or HDTV! Whatever the case may be, The New Motorola Atrix 4G has set a new standard for Future Smartphones.
This First Dual-Core Smartphone is pass average, it runs Android 2.2 (Froyo) but when docked as a laptop or desktop, it also runs a custom version of Linux loaded with a desktop-class Web-browser. The Laptop Dock runs around $300 – $500 depending on your contract.  Also available is the HD Multimedia Dock ($189), for your desktop or HDTV, bringing all your mobile Media experience to the big screen. It comes with a Bluetooth mouse, Keyboard and Remote control.
More Features are the 4-inch touch screen in qHD, 16 GB onboard but expandable to 32 GB and There's a 5-megapixel camera on the back of the Atrix, and a pointless VGA camera on the front of the phone for Video Chatting. But what really impressed me is the Fingerprint recognition technology. As a security feature the camera captures your fingerprint to unlock your phone, saying goodbye to remembering coded numbers and dragging features.
This phone is impressive if you cash out on all the accessories for it. It's like your own personal Multimedia office, everywhere you want go.  The Atrix is only available on the AT&T Network, priced at $199.99 with a two-year contract.