PHHHOTO for iPhone can now turn your selfies and other photos into moving Gifs. Fans already include celebrities like Katy Perry, and Diplo- and has already passed popular apps like YO in the App Store.  PHHHOTO is the free camera app that captures life in motion through its exclusive, multi-frame camera. Now anyone can shoot and share images that look and feel alive. The PHHHOTO format consists of a series of frames captured with a single touch.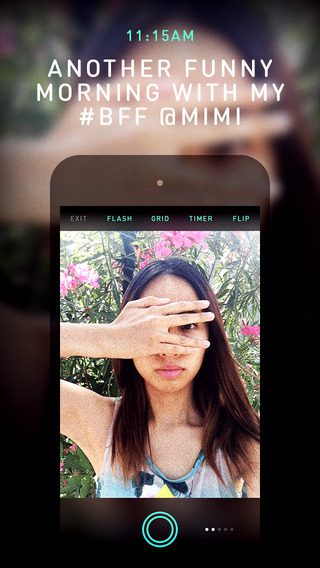 HYPERHYPER explains, "Until today, cameras had two modes: snap a picture or record a video. Now there is something in between. PHHHOTO makes the most ordinary moments look and feel mesmerizing, instantly and effortlessly. Anyone can do it. Quicker than video, more lifelike than stills."
If you've attended any great parties or social events this year, there's a good chance you've experienced PHHHOTO PRO®, the wildly popular animated photobooth. PHHHOTO PRO® detects your face, shoots several frames, then delivers a sharable, animated selfie to your phone via SMS. PHHHOTO is now bringing this format to the iPhone — and bundling it with sleek community features so you can follow, like, comment and share PHHHOTOS with friends.
At PHHHOTO parties, the app becomes an extension of the photobooth, which has been tapped by some of the world's most influential brands, like Red Bull and Michael Kors, to capture and distribute PHHHOTOS of fans, socialites and celebrities. The results speak for themselves — a single PHHHOTO party often generates more original social content than some social campaigns lasting several weeks. And with PHHHOTO for iPhone now gathering these PHHHOTOs in one place, people can see and share the party forever.
Are you ready for the next frontier in photo sharing?  Have you checked out the new app yet?  What do you think?
Comments