As a transplant New Yorker, I've never really been excited about football, let alone the Super Bowl.  Honestly, before this year the only thing that interested me about the big game were the well-publicized television commercials. (Hey, I'm a former ADV major in college and was in the industry for years…what did you expect?)  Plesantly, this year seems to be a tiny bit different.  With the New York Giants facing the New England Patriots, this is sure to be an exciting game on the field and off!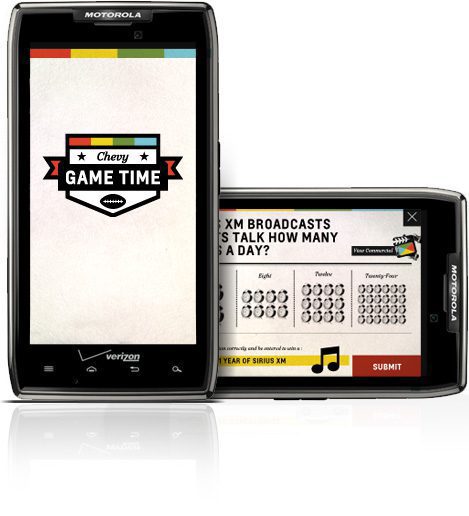 To add to the Super Bowl fun and excitement Chevy announced a first-of-its-kind app which will allow viewers of Super Bowl XLVI to play trivia, interact with each other via Twitter, participate in polls and possibly win one of 20 Chevrolets or thousands of other prizes. The Chevy Game Time app is available now in the Android Market, the App Store and at chevy.com/gametime.  Chances to win begin as soon as the player downloads the Chevy Game Time app with instant win opportunities. In addition, players will also receive a unique license plate number. If their plate appears during a Chevrolet advertisement during the game or online, they win a vehicle. While watching the Super Bowl, players can answer trivia questions or polls relating to the football game, teams, commercials and other related events. The cars up for grabs are: A Chevrolet Corvette GS Convertible 4LT, (6) Sonic 2LZs, six Cruze LTZs, (3) Silverado 1500s, aCamaro 2SS, aCamaro 2SS Convertible, and (2) Chevy Volts. Just in case you don't win one of those vehicles, don't worry: you can still win one of thousands of prizes from Bridgestone, Motorola, the NFL, Papa John's, or Sirius XM.

Not at home to watch the big game, don't worry – Verizon has you covered!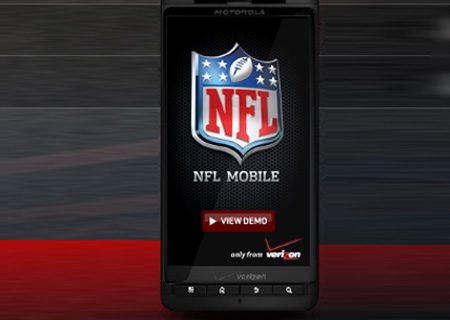 For the first time ever the Super Bowl will be streamed live online and only to smartphones and tablets on the Verizon Wireless network.  You no longer have to worry that you'll miss the New York Giant's action at Indianapolis' Lucas Oil Stadium if you're not near a TV. By downloading the Verizon NFL Mobile app, you will have access to a live stream of the game, the latest news, highlights and stats. The Super Bowl stream will even include replays of the popular ads and include additional camera angles.
It looks like I'm gonna have tons of fun with my smartphone during Super Bowl Sunday – how about you?  Do you have the Verizon NFL mobile app or going to download the Chevy GameTime app?  Let us know below!