Thank you to Cube Dog for sponsoring this review. For more information about Cube Dog please visit the Facebook page or download it on iTunes.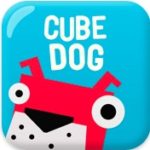 As we speak, I'm cheating on my favorite lil pup Phoebe  with her virtual replacement, Chloe – my 3D Cube Dog!  What is a Cube Dog you ask?  It's only the easiest, fit in your pocket playful pet since those Tamagotchi's of the 90's (Remember those? LOL) Cube Doges are adorable, 3D, interactive pets that you can customize to your hearts content!  No, fetching for them – these dogs do it all!  Play baseball or even kick butt with some ninja moves with your fully customized pet! Available in the Apple App Store today, (FOR FREE) this is interactive fun you can take anywhere – you can even snap photos and share with your friends.
Some of the coolest features about this app includes the ability to create your own unique cube dog by selecting various parts and colors.  You can create a totally outrageous pup or re-create a full 3D version of a pup you already call your own.  The 3D graphics brings your cube dog to life with the ability to rotate, zoom and make the most of the time with your net pet.
Check out Cube Dog on Facebook today for a fun and exciting contest going on next week!
Currently available on iPhone 3GS, iPhone 4, iPod touch (3rd & 4th gen) running on iOS 4.0 (or higher).
While Cube Dog provided me with the app to review, the opinions I've expressed here are solely my own and represent my honest viewpoint. Cube Dog, Clever Girls Collective and I promote Blog With Integrity.