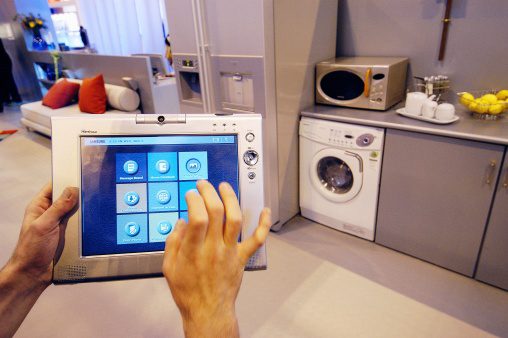 Home is where the heart is, and now thanks to home automation, it's also where technology thrives. While in the process of moving into my new dream home, I'm all about finding the best in smart home automation products to ensure control of energy efficiency and cutting waste. Clearly, I'm not the only one with the bright idea, in fact, the smart home market is forecasted to hit $12.8 billion by 2017 in North America and Europe alone.
The rapid growth of smart home technology is closely connected to the large number of people who own mobile devices. Today 90 percent of American adults have a cellphone, 58 percent have a smartphone and 42 percent of own a tablet computer, according to the Pew Research Internet Project.  Home connectivity is no longer a novelty – it's quickly becoming commonplace, allowing you to stay connected to your home from near or far. Here are the top trends in smart home technology today:
Heating and cooling control
Heating and cooling accounts for more than half of the energy used in a typical American home, according to the U.S. Department of Energy. It's no wonder homeowners want tech-savvy solutions to cut bills. Programmable thermostats are affordable and readily available, and when used correctly, they can save homeowners up to $180 per year in energy costs. Some smart thermostats even allow temperature adjustments to be made remotely from smartphones while providing energy statistics to help you control costs. Zoned heating and cooling systems are also gaining traction, meaning that you can heat or cool certain parts of the home based on where you spend the most time.
[Must Read: Meet Honeywell's Lyric Thermostat – Home Comfort That's In Tune With Your Schedule]
Wise water usage
More people are aware of their water footprint and are taking steps to control H2O usage in their homes. Low-flow toilets and shower heads are a start, but technology is taking water usage and conservation to new levels. EcoWater Systems HydroLink Plus is an example of a water treatment system enhanced by Wi-Fi technology. The system softens and treats your water while monitoring water usage, letting you know when softener salt is needed and sends you alerts if potential issues are detected, such as a continuous water flow over a period of time or excess water usage above normal usage. This allows you to make adjustments to save money on utility bills, plus provides peace of mind that problems can be corrected before expensive repairs are required. This is on top of the inherent savings water softeners provide in hard water areas, reducing the amount of soap and cleaning agents needed and saving on energy bills. Also, if you choose, HydroLink Plus enabled systems can be programmed to send alerts and diagnostics to a local EcoWater dealer who can monitor the system and provide maintenance as needed. For more information, visit www.ecowater.com.
[Must Read:  Keep A Watchful Eye On What's Important With The Belkin NetCam HD]
Smart security systems
For years, home security alarms consisted of sensors that detected break-ins and responded with loud sirens. Today, security systems literally put a home's safety and efficiency in the palm of your hand. Video cameras and alerts let you know when children arrive home from school or when packages are delivered. Fire alarms integrated into the system alert you of smoke, fires and the presence of carbon monoxide and other poisonous fumes.
[Must Read: 5 Ways To Stay Connected In The Bedroom For Under $100]

We live in a digital age and homeowners are embracing smart home technology for everything from water treatment to home safety.  The result? Homes are more efficient and secure, and homeowners are conserving natural resources while saving money on utility bills. Perhaps it's time to hop on the bandwagon and consider intelligent home improvements? There are definitely benefits – and you'll have the smartest home on the block.
Are you looking forward to creating a smart home space for you and your family soon?  From lightbulbs, motion activated cameras and more, there's plenty of cost-effective options to get you started, the question is – which items to buy first? Share your home automation wish list items in the comment section below!
Comments