Want to see some cool tech while at the North American International Auto Show? Debuting at the 2015 NAIAS, the Local Motors' 'Strati', the world's first 3D printed car, will be fabricated and assembled live on the show floor to premiere a new fleet of vehicles that will be manufactured and sold at their new micro-factory in national harbor, maryland. The Detroit-based auto show is where the latest product development of Michele Anoè's competition-winning design, that was first successfully completed at the 2014 International Manufacturing Technology Show in Chicago.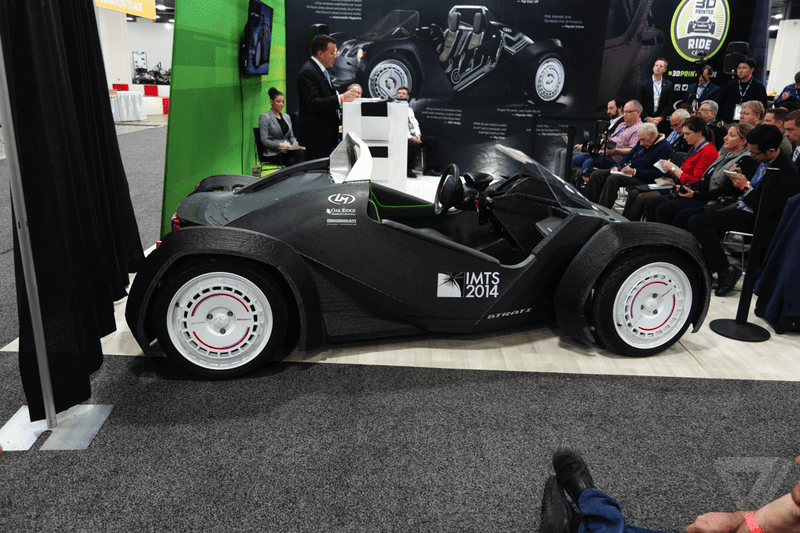 Since launching in 2007, we have continuously disrupted the way vehicles are designed, built, and sold,' said Local Motors co-founder and CEO John B. Rogers, jr. 'We paired micro-manufacturing with co-creation to bring vehicles to market at unprecedented speed. we proved that an online community of innovators can change the way vehicles go from designed to driven. We pioneered the concept of using direct digital manufacturing (DDM) to 3D-print cars. I am proud to have the world's first 3D-printed car be a part of our already impressive portfolio of vehicles."
The printing of the car takes 44 hours — just about two full days — after which the rough components are routed and polished to complete the final details and give the Strati a finished look. The whole thing can be done in what Local Motors calls a "micro-factory," a 40,000-square-foot space that contains everything needed to design, build, and sell a car. The company is partnering to open two such micro-factories this year, one in Knoxville, Tennessee and another near Washington, DC in National Harbor. The DC location, which breaks ground in the third quarter of the year, is where Local Motors says the first "fleet" of 3D-printed cars will be sold.Just another cool feature to check out during the North American International Auto Show in Detroit.
Comments