We've all been there. Staring down in horror at our phones at a text we did not mean to send but did anyway for reasons ranging from carelessness to extreme anger to intoxication. Or maybe a friend thought it was funny to prank us and sent the unsendable message as a joke.
Regardless of the reason for the faux pas, your worries are over because someone has finally created that app, the one that allows you to recall your messages, at least within a set time period, and either edit or delete them.
"We've all had that experience where we send a text message [that] made us look like complete idiots. We've all had that text message that we wish we could get back, and now we have the opportunity to do that with On Second Thought," Maci Peterson, the co-founder and CEO of On Second Thought.
The app, called On Second Thought, which was launched on Dec. 23, is pretty easy to use. You download it from the app store, set it as your primary messaging app and start texting away. When you realize you've sent a text that makes you want to cringe, you either swipe left to recall and edit it or you swipe right to completely delete it.
On Second Thought is Peterson's brainchild, its creation, and the creation of the company itself, triggered by the young entrepreneur's winning first place in a start-up-pitch competition in March 2014 at the South by Southwest festival in Texas. To Peterson, that vote of confidence was the validation she needed to start the long process of pulling together a team and getting started.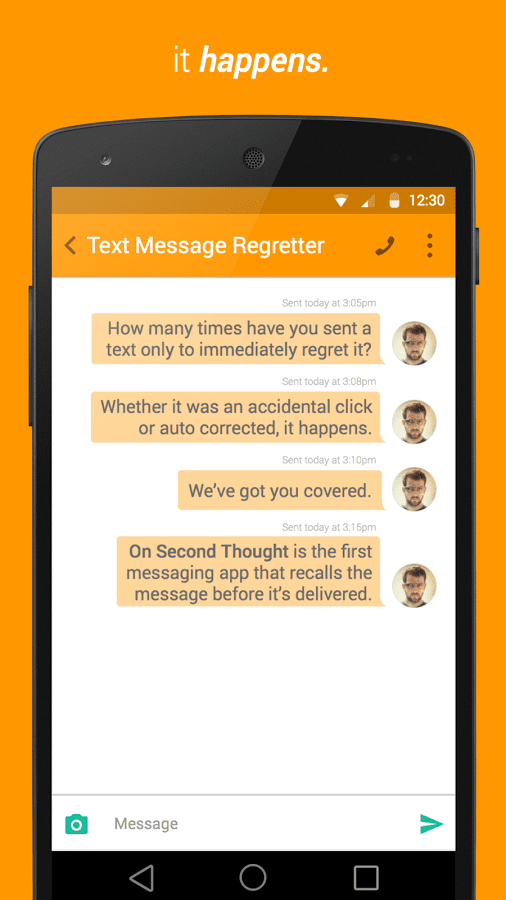 As far as future plans for the app, Peterson hopes to have the iOS, or Apple's operating system, version out by the end of the year. The current Android version is so far performing quite well, Peterson says. Peterson notes that as of the first full week in January, the company has had about 100 new users every day, with an 82 percent retention rate.
A new feature that she has planned is the "curfew," which would essentially allow you to set a time for all messages from your phone to be stopped (hint, hint for those intending to have a particularly rowdy night out on the town) until the next morning, when you can glance back over them with "fresh" eyes, as it were.
Currently the app is free to download in the Play store and provides you with a set number of recalls (about 17 or so, Peterson says) for free. Unlimited recalls for the rest of the month cost $1.99, while a yearly subscription is $9.99.
Comments