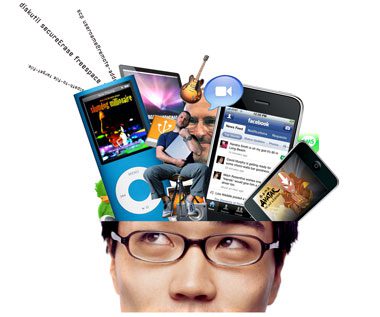 If I've said it once, I've said it many times before.  Apple has single-handedly become a successful company because of it's lifestyle appeal to tech – not because of superior products. As a matter of fact, you may notice more of it's competitors taking a few cues from the widely successful company but appealing to the novice and sometimes tech snobbish users of today.  Have you ever asked yourself if Apple users really think differently?  Or have they been brainwashed instead?  Apple fanboys and fangirls everywhere have jumped at each and every new product released by Apple, not because of it's superiority in the marketplace but simply because it's manufactured by Apple.
Discover if you're an "Apple hater" or just plain immune to psychological lifestyle marketing.  This infographic gets to the bottom of why people buy Apple products, and what keeps them from buying them. And it shows how they feel about those products once they've bought them.  If you're having trouble understanding this unusual infographic, here's a quick guide: On the left side are those who haven't bought Apple products, and on the right are those who have been enveloped in Apple's alleged reality distortion field.

Are you an Apple Super Fan?  Do you believe Apple's success has been simply because of the reality distortion?
Which side do you fall on?