SWAGG is a free mobile app (download here) that lets you shop smarter using your mobile phone. Buy, send or swap SWAGG GIFTS and organize your old school plastic gift cards. Get offers for the things you want.  When you're in a store and ready to pay, just show SWAGG on your phone at checktout.
DEAL ALERT! If you're like me, you're still wondering what to get family members, friends and co-workers for Christmas.  (*Don't worry, we're in a safe place and I'll cast no judgement upon you 😉 *) But what I will do is give you the perfect solution to solving your holiday shopping problem.  (*Grab you credit/debit card and read carefully*) SWAGG handles gift cards for hundreds of merchants, and makes shopping in stores as simple as flashing your phone (sorry, blackberry – this is for iPhone or Android phones only) at the checkout. You can give or receive gift cards through SWAGG on the phone, or import the "plastic" giftcard version into the app for future purchases.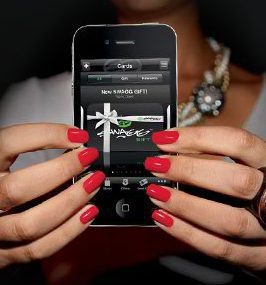 Peep the scenario:  It's Friday, you're sipping on coffee at the airport waiting to travel home for the holidays.  In between reading magazines and coffee refills after your third sip of (insert flavored coffee drink here) you realize you forgot to get your favorite gadget-loving cousin a gift (insert flavored expletive here) and you're in a state of panic…you immediately think of some last minute gadget gifts (as seen on DivasandDorks.com) and you remember reading the post on SWAGG.  Now you're dilemma is easily solved using SWAGG and after a couple of clicks from your smartphone – you've purchased your giftcard and peace of mind!
Don't believe me?  Check out the SWAGG tutorials on how easy it is to give, receive and use SWAGG giftcards —- I hear the ease of retail therapy calling…
For every download of the app between now and Dec. 31, 2010, SWAGG will donate $1 to Stand Up To Cancer (SU2C) , up to $125,000.
Clever Girls Collective and SWAGG are sending a pair of movie fans to the Sundance Film Festival!Download the SWAGG app and then visit the Ultimate SWAGG Getaway Sweepstakes site to enter to win a trip for two to the Sundance Film Festival. Entry deadline is January 3, 2011, 11:59pm, PST.
Learn more about the coolest new app that revolutionizes the whole shopping, gifting, and gift card-organizing experience and Download the SWAGG app to your iPhone or Droid. I was selected for this sponsorship by Clever Girls Collective, which endorses Blog With Integrity.