As you know, we know a thing or two about cars and how women feel about them!  From the buying process to the styling process – we try to keep you up to date with the latest automotive news from technology enhancements to lifestyle partnerships and beyond.  Naturally, the good folks at Toyota values the female consumer and enlisted DivasandDorks.com to be apart of the Toyota Women's Influencer Network.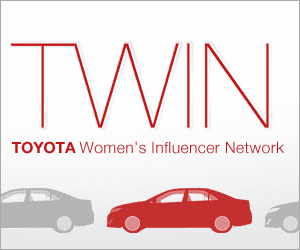 What is TWIN?  TWIN is a cool new advocate discussion group focused on cars, car shopping, driving, and the Toyota brand.
Toyota has been part of many major milestones in our lives, from our first family road trips, to getting our driver's license, to buying our first car. Toyota wants to hear about your experiences, learn from your history, and know what you think about their brand. And their cup holders. And their interiors. And what's under the hood. And technology. And going green, saving money, family fun, vacations… pretty much everything about cars, car shopping, driving and what's important to you.
We know you have opinions to share, and we're here to listen!
While at TWIN Camp this month in Los Angeles, CA we'll get the latest in style and technology news from Toyota as well as have a few exciting opportunities for our readers to get to know Toyota in a new and exciting way! Want to keep up with the TWIN experiences as they happen?  Be sure to follow the #ToyotaWomen hashtag on Facebook, Twitter & Instagram to see all the exciting behind the scene events & more!