Stereotypes are real. And although in recent days, they've seem to be too real, causing terrifying reprocussions – Verizon is doing something about changing the narrative with it's newest #YouDontKnowMe initiative.
Baltimore middle schooler Loden Harris became an inventor at age 13 when he turned his vision for a mobile phone charging stand into a real working product with a 3D printer. By bringing his idea to life, he shared a message to his African-American peers: "There are young black males who are preparing to make a difference in the technical world!"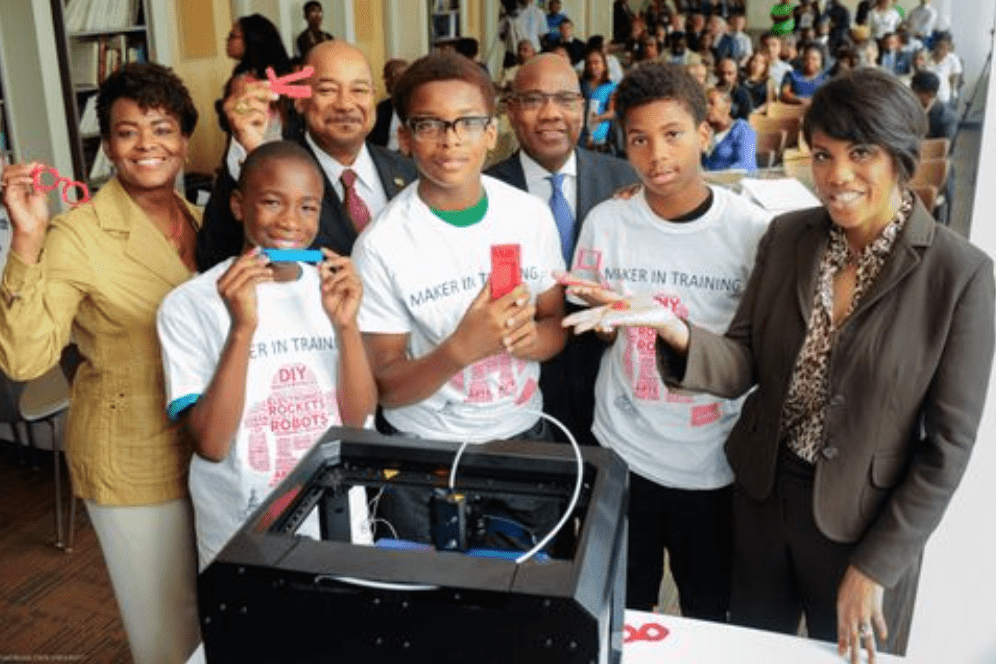 photo courtesy of Afro.com
Loden's phone charging stand is just one of the more than 500 technology products including apps and 3D inventions, that African-American boys have brought to life in the last year – with the help of a new program that's focusing on minority middle school boys. This group is often "forgotten" when it comes to programming for technology skills, despite the fact that African-American males remain one of the most underrepresented groups in STEM professions, and the "boys club" of Silicon Valley is stiflingly monochromatic.
The Verizon Innovative Learning program for minority males is a new initiative that is making sure these boys have a chance to succeed, by investing in them with marketable tech skills, mentors and access to classes on college campuses. Even more than skills, it's helping these boys get a new picture of how they too can MAKE IT, even if they aren't a rapper or professional ball player.
To date, the program's reached 450 boys so far and is now expanding to 12 cities, where it will engage more1,200 young men. New data also shows the program is making an impact – increasing minority boys' interest in STEM careers and subjects.  Verizon is also hosting 100 young men from July 27th – 30th in San Francisco at an event where they will receive hands-on tech training, hear insightful lectures and experience behind-the-scenes workshop at Lucas Films and the Levi's Stadium Gridiron Engineering & Design Lab.
Want to do your part in sharing the new narrative about our community in STEM?  Check out the video and share it socially on Facebook and Twitter using #YouDontKnowMe today!
Connect with Verizon Innovative Learning: www.verizon.com/inspires
Learn more about Verizon Innovative Learning app challenge: http://appchallenge.tsaweb.org/
Find Verizon Innovative Learning on Facebook: http://www.facebook.com/VerizonFoundation
Find Verizon Innovative Learning on Twitter: http://www.twitter.com/verizongiving
How are you changing the narrative and stereotypes in your community?  Sound off and share on social media using #YouDontKnowMe today!
Comments