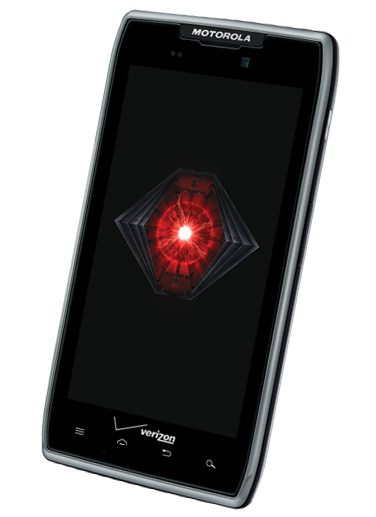 If you're ready to ditch toting your charger EVERYWHERE you go – then the Motorola Razr Maxx is the way to go! At this time, you're probably thinking, "Wait, I thought I already saw a review on the Motorola Droid Razr…" That part is true, but with all great mobile advances – it was only a matter of time until Motorola improved on the battery life of the Droid Razr, making the Droid Razr Maxx and amazing upgraded device.
If you recall my previous Droid Razr review (review it here) you'll definitely see how how the two stack up against each other: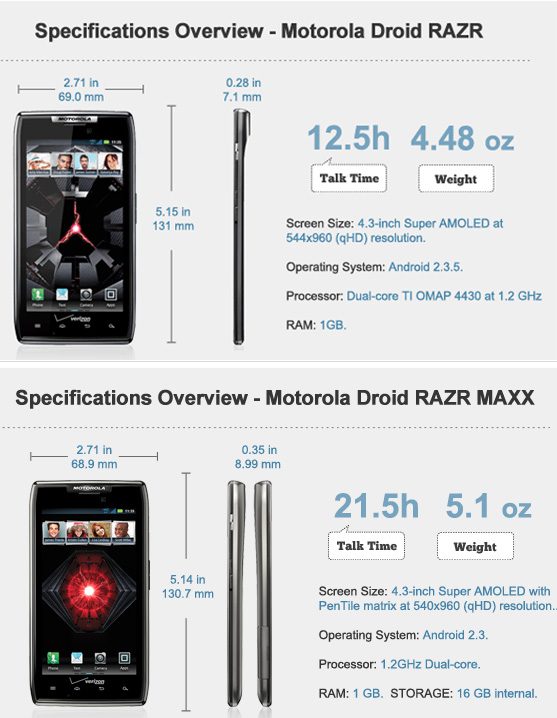 Both Droid Razr & Razr Maxx are relatively the same…except one HUGE difference in talk time.
Of course, with such a huge difference in talk time – I just HAD to put the battery life to the test. With more than 17 hours of texting, tweeting and talking ("You hang up. No you hang up. Okay, we'll both hang up on three… One…Two… Three….Hello? No, you hang up…etc…") – the Droid Razr Maxx absolutely backed up it's battery claims. This it the perfect phone if you hate searching for power outlets in every restaurant and place of business you venture into. You could actually (dare I say it,) go an evening without charging your phone overnight without freaking out the next day with a dead phone.
If you're a Verizon Wireless customer on the go – REJOICE! For once, using the mobile hotspot on your device won't kill your battery. Connecting via WiFi using your laptop or tablet has just gotten alot easier with Droid Razr Maxx.
Filled with preloaded apps including the Smart Actions app makes everyday tasks easier by automating actions you do daily like adjusting ringer volume during office hours to playing your favorite playlist once for your daily gym workout.
Looking for speed? The Verizon 4G LTE is lighting fast! Surf the web superfast & grab downloads in an instant with the Droid Razr Maxx.
There are slight differences in size & design, however these barely noticeable differences are minute in comparison to the benefits of adding extra battery life without the bulk of an external battery pack.
For complete specs check out the DROID RAZR MAXX on Verizon.com.