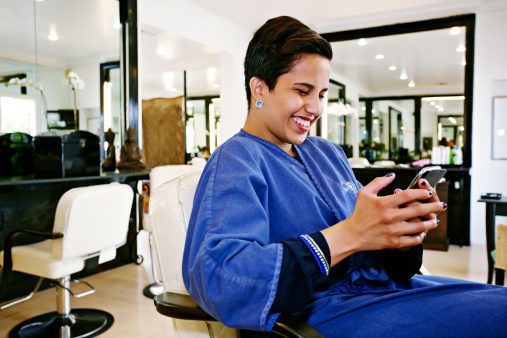 Summer is here and it's time for a totally new do' for a hot and humid new season.  If you're planning on a salon visit anytime soon, then more than likely you're already prepared to wait for a long wait inside of a busy salon.  Waiting in a salon for 3 or 4 hours is the norm for most salons, and depending on which style and stylist speed, you can find yourself waiting a whole lot longer than expected.  Since salon sittings can some times become an all-day affair, Verizon Wireless put together their list of top beauty apps to enhance the salon experience (and help the wait fly by)  below.
The world's most advanced mobile virtual makeover app!  Makeup, by ModiFace, takes virtual makeovers to a whole new level with state-of-the-art cosmetics colors and shades in seconds, as well as 40 different celebrity hairstyles.
The app that brings hundreds of OPI's great shades to your fingertips.  Acting as a portable Try-It-On Studio, OPI gives users a virtual look at how the hottest OPI lacquers appear on their own nails.
Thinking about a new look? Look no further.  Pinterest is a go-to app when it comes to discovering new looks and fresh ideas around beauty and fashion.
Flipboard is your personal beauty magazine.  It is the most popular way to catch up on the latest beauty news, greatest new products and high fashion tips, in an easy to read format.
For the busy New Yorker, Beautified lets you score last minute salon appointments in a hurry.  It searches for the best spas and salons in the city and presents them to you so you can choose the best experience.
Now that you're equipped with apps that'll keep you busy for your next salon experience, what hairstyle will you be upgrading to next?
Comments