ARE YOU SUPER FUN?
PASSIONATE ABOUT SHOES/STYLE/NETWORKING?
WOULD YOU LIKE TO BECOME THE FACE FEATURED IN THE NEXT SOLESTRUCK LOOKBOOK?
No it's not a scam, spam or useless information.  For some women it's a euphoric sound to their ears, and for others, its a chance to grab some free swag.  Either way, Solestruck is giving away tons of free shoes tomorrow and YOU NEED TO BE THERE!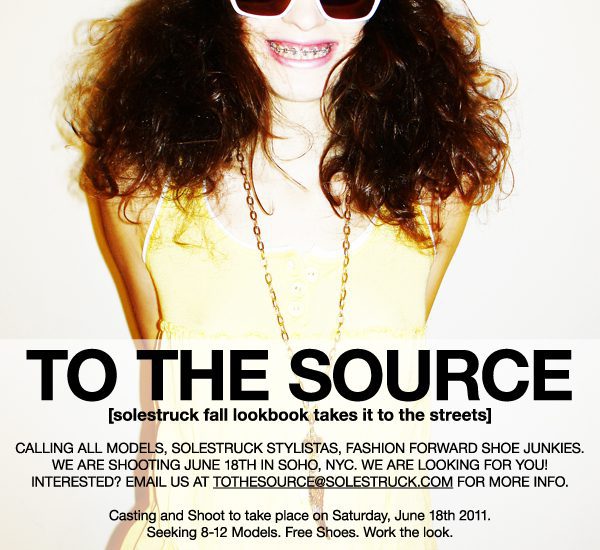 Check this out directly from the Solestuck.com blog site…
———————————————————————————————————————–
Hey people, the lookbook shoot is saturday—and we are looking for you HOT NYC LADIES! This is a LIVE CASTING, so show up at ten, the first 50 of you get shoes—and we choose ten of you to be featured in the book. Below is the basic infoL
Step one. Email us to tothesource@solestruck.com and we will respond within 5 hours with info on the shoot.
Do not arrive to the site before 9:45am.
Casting begins at 10am.
The First 50 models are given shoes just for coming! Limited to shoes on hand…..sizes on hand….so get there early for best free shoes!
Since we are casting RIGHT ON THE SPOT plan on having your entire day blocked off if you want to be considered.
If you are under 18 email us for a release form. Everyone else can fill a form out on site. Nobody will be seen without a release form.
Get ready to party and work that look—this is going to be fun, crazy and full of the hottest shoes, clothing and models.
———————————————————————————————————————–