Who says that gaming is a guys-only sport?  I remember playing all the hot new games (back in my day) including, Super Mario Bros (The Original), Duck Hunt, (remember the Power Pad) and even battle games like Mortal Kombat, Street Fighter & 007.  (That is, until my younger brother kicked my butt so hard in 007 that I refused to pick up another gaming controller ever again.)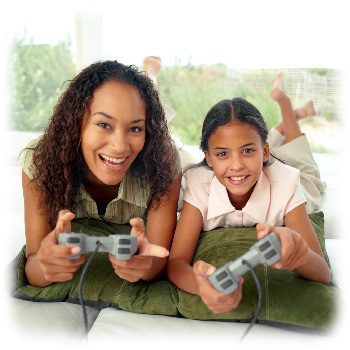 If you're a girl that's into the games, this is for you!  Interpret, a leading entertainment, media and technology market research firm, today released its Interpretations report, "Games and Girls: Video Gaming's Ignored Audience," which finds that the large female gaming market is more nuanced than its casual-centric reputation suggests, and that opportunities to profitably meet the needs of women and girls with games tailored to their preferences are underutilized.
The report examines the changing demographics of the female gamer and how, despite widespread interest in gaming among women and established market representation (50% overall), marketing efforts have largely ignored the group. According to Interpret's New Media Measure™ syndicated study, console use among female gamers has increased significantly in the past two years – and not just for the Wii. In fact, 21% of women gamers now use an Xbox 360 and 16% a PS3, up from 17% and 12%, respectively, in 2009. Furthermore, women demonstrate increasing but under-acknowledged variety in genre preference – 44% prefer genres other than Casual, Exercise, and Music/Rhythm.
"Women not only exhibit different gaming behaviors than men, but also express attitudes about gaming that are dissimilar to those of their male counterparts," said Courtney Johnson, Interpret analyst. "For instance, they are much more likely to prefer to play solo than men, and play games for less competitive and more narrative- and character-driven reasons. It remains to be seen whether developers and marketers will effectively invest in understanding and exploiting the undertapped female gaming market."