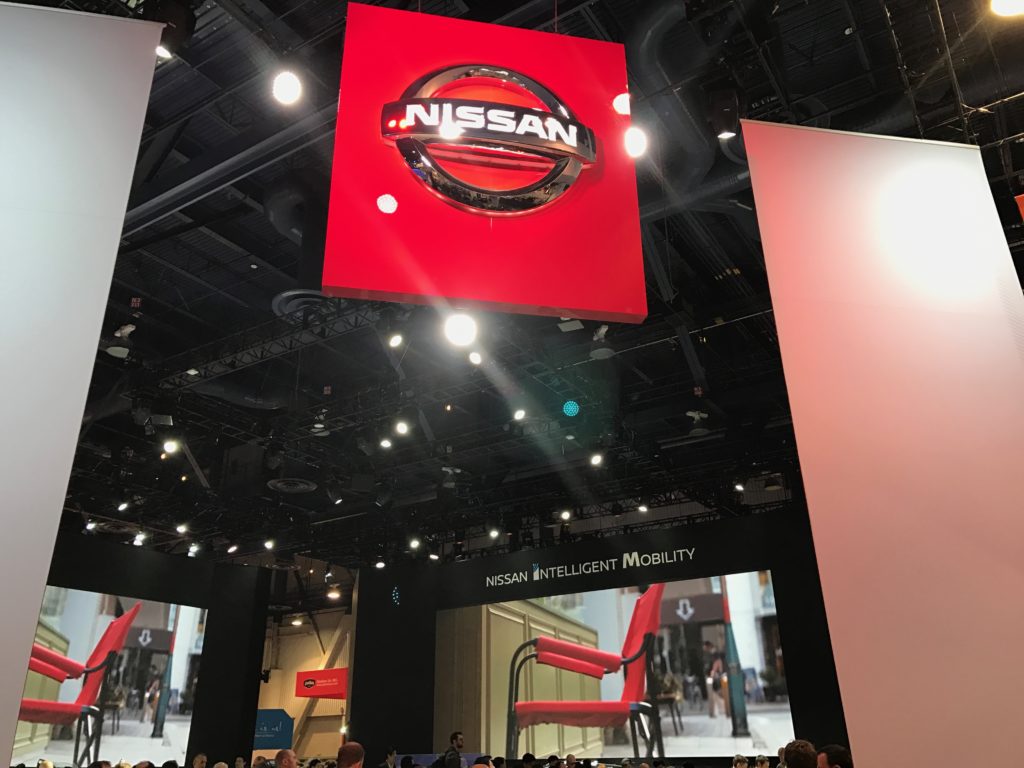 The future of driving is now and Nissan is paving the way for intelligent driving for all!  Recently at the 50th Consumer Electronics Show in Las Vegas, NV – Nissan highlighted how it's disrupting the autonomous driving trend with intelligent core areas of innovation.  During his CES keynote Nissan chairman of the board and chief executive officer Carlos Ghosn announced several advancements as part of the Nissan Intelligent Mobility blueprint for transforming how cars are driven, powered and integrated into wider society.
The Nissan Intelligent Mobility blueprint includes, the launch of Nissan' breakthrough Seamless Autonomous Mobility (SAM) system, A new Nissan LEAF coming in the near future and the partnership driving Microsoft's personal assistant technology Cortana into vehicles making driving more efficient and enjoyable.
Seamless Autonomous Mobility (SAM) system
Developed from NASA technology, SAM partners in-vehicle artificial intelligence (AI) with human support to help autonomous vehicles make decisions in unpredictable situations and build the knowledge of in-vehicle AI. This technology will enable millions of driverless cars to co-exist with human drivers in an accelerated timeline. With SAM, the autonomous vehicle becomes smart enough to know when it should not attempt to negotiate the problem by itself, instead, it brings itself to a safe stop and requests help from the command center.  Once clear of the area, the vehicle resumes fully autonomous operations, and the mobility manager is free to assist other vehicles calling for assistance. Talk about better autonomous driving together.
Nissan LEAF
Nissan was the first carmaker to introduce an all-electric vehicle to the mass market. Today, the Nissan LEAF is the world's best-selling EV with more than 250,000 units sold and more than 3 billion kilometers travelled, a distance to get to Saturn and back. So what's new?  The new Nissan LEAF is poised to come equipped with with the semi-autonomous ProPilot system, which is designed to navigate jam-packed commutes using a single camera mount on the windshield. The system takes control of the brakes, throttle and steering, using the mounted camera.  There's also an opportunity for electric vehicles that can supply power to homes, buildings or even the grid itself. Could you imagine driving an electric car that can power your home?
Microsoft Cortana
Cortana will allow the vehicle to adapt to personalized driver settings, even understanding different driver preferences in a shared vehicle, almost making it feel like your own.  Nissan demonstrated Cortana integration in a concept video of what will be possible with the digital assistant. Imagine asking your car questions like "What is my schedule?" or "What's a shortcut to the nearest grocery store?" these are realities that Nissan and Microsoft will soon bring to life. Expanding on the partnerships, Microsoft says it plans to preview its Connected Vehicle Platform later this year. Microsoft is leveraging its cloud platform to allow manufacturers like Nissan to build autonomous cars, maintain vehicles, and provide navigation and further Cortana capabilities.
Nissan is making huge strides advancing what the future of driving will look like for all.  Want to learn more about how Nissan is disrupting the auto industry and beyond? Get social with Nissan on Facebook, Twitter and Instagram today!