Who wouldn't love to make a real life robot?  I remember growing up with my favorite building blocks and creating everything from skyscrapers to designing mobile phones accessories.  If you haven't had the chance to construct with the favorite building blocks for children of all ages recently, this new tech-infused update will have you running to your nearest toy store immediately!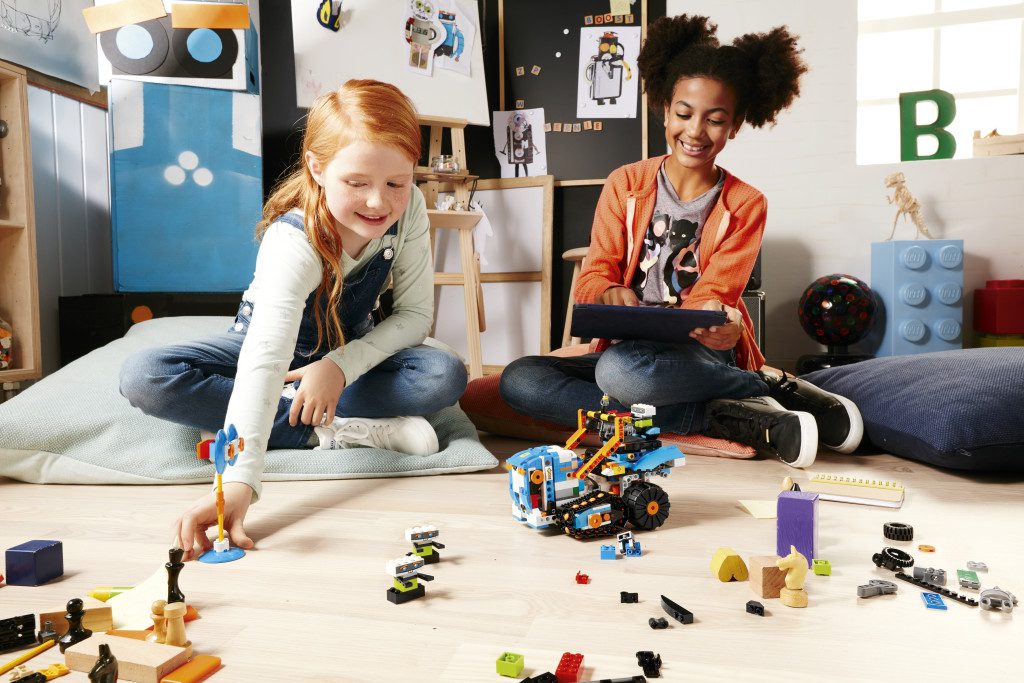 Last week, the LEGO Group announced LEGO BOOST, a supercharged building and coding set that lets kids of all ages bring their LEGO creations to life by adding movement, sound and personality. Unveiled at the Consumer Electronics Show in Las Vegas, LEGO BOOST combines the endless play opportunities of a traditional LEGO set with an endless variety of movement and sound capabilities made possible through an easy-to-use, app-based coding environment.
Using familiar LEGO elements and simple coding language, LEGO BOOST delivers an intuitive approach and opportunities for quick success.
Powered by a Move Hub, a LEGO stud-covered brick with built-in tilt sensor upon which children can add LEGO elements, motors and a sensor that combines color and distance detection, LEGO BOOST brings movement to any LEGO creation. The set includes building instructions for five diverse models; Vernie the Robot, Frankie the Cat, the Guitar 4000, the Multi-Tool Rover 4 (M.T.R.4), and the Autobuilder, each designed to give children the basic building and coding skills needed to express their creativity by personalizing whatever they build.
Can't get enough of LEGO gear? Check out unique LEGO wear ideas here.
Coding Brings Your Toy to Life
LEGO BOOST introduces children to coding through a free downloadable app that contains the guidance, building instructions and simple coding commands to bring to life five LEGO creations, one at a time. Much like building with LEGO bricks, children build behaviors and actions by linking digital coding blocks in an easy-to-understand horizontal layout. To further personify the experience, LEGO BOOST lets children add voice recordings to their creations, adding personality without requiring spelling and typing. The app also includes more than 60 activities designed to inspire additional building, coding and play.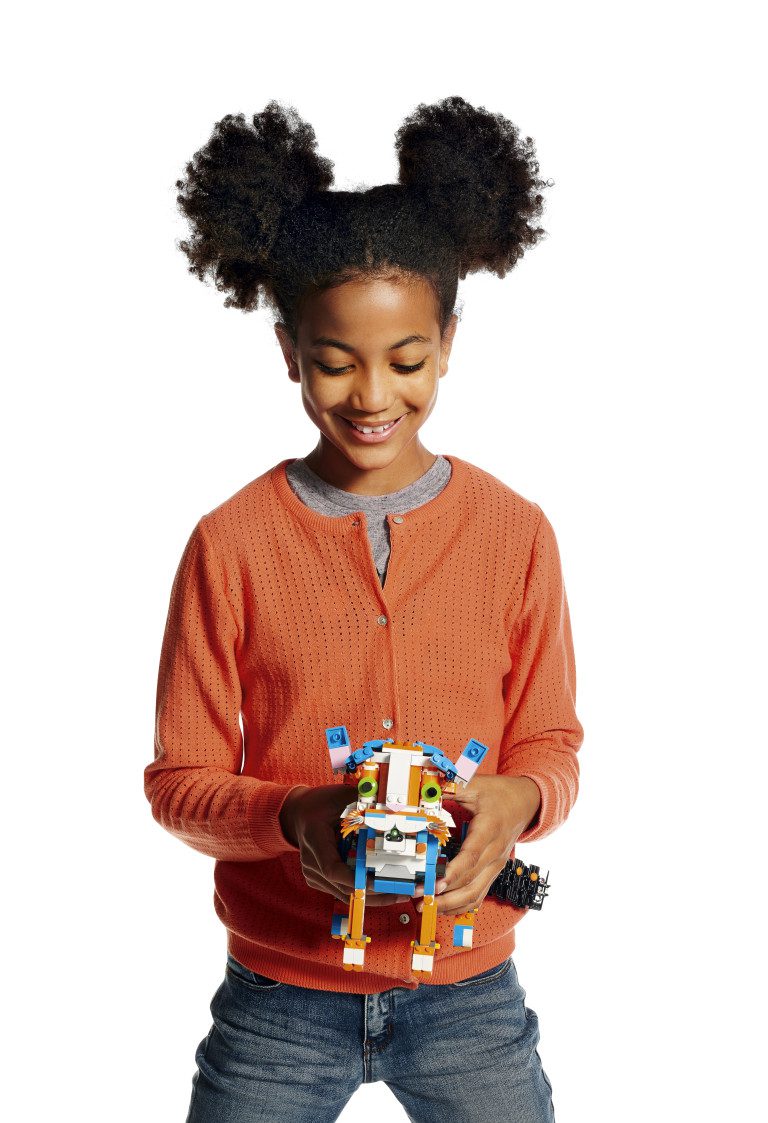 Creative Canvas Lets You Boost Any LEGO Creation
To further inspire creative building and coding, the LEGO BOOST app includes a "creative canvas" that includes basic building instructions for three simple base models that children can use to customize their own LEGO creations. The three bases available at launch include: a walking base for making animals like a dragon or a pony, a driving base for building vehicles like a dune buggy or rover, and an entrance base so that children can make their own castle, fort, or even a futuristic space station. (Take your creation on the go with a new LEGO bag, backpack or satchel.)  Once children are comfortable with building and coding the various LEGO BOOST models, they can use the kit to "boost" any LEGO creation – from LEGO CITY and LEGO  Friends to LEGO NINJAGO and The LEGO BATMAN Movie.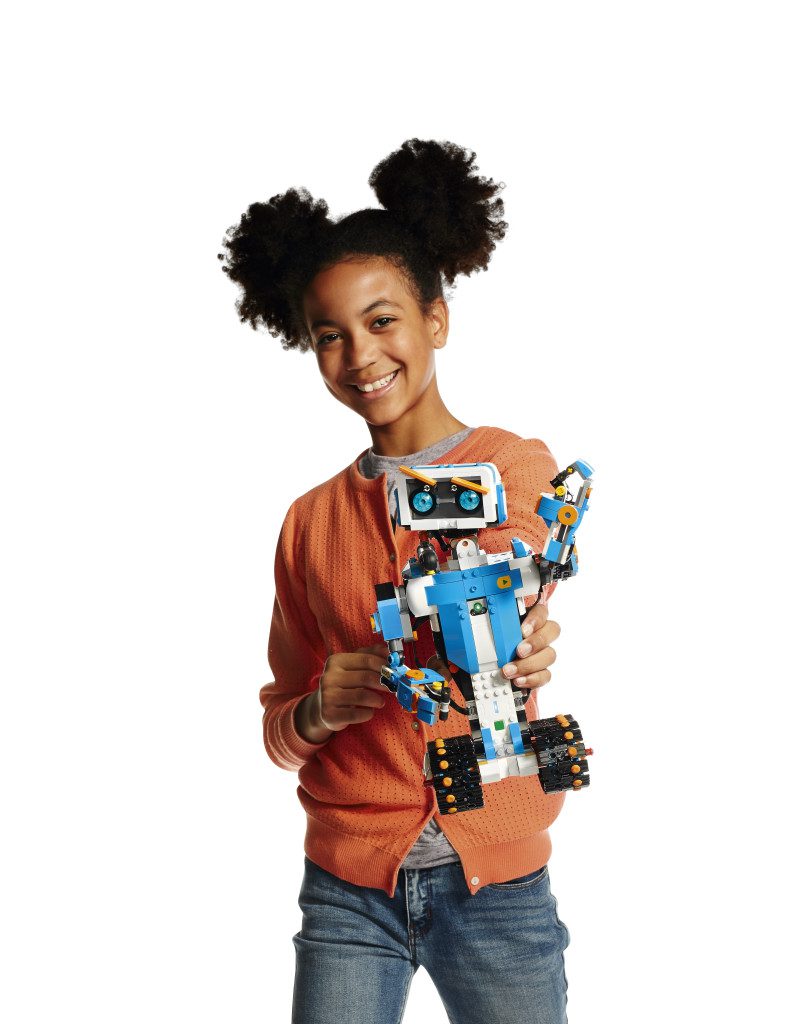 LEGO BOOST Includes:
Hardware
3 BOOST Bricks:

Move Hub with built-in tilt sensor
Combination color & distance sensor
Interactive motor

843 LEGO elements
Playmat, calibrated to the app, designed to facilitate mini challenges to practice simple coding trials
LEGO BOOST App
Free, downloadable app is iOS and Android tablet compatible
LEGO BOOST uses 6 AAA batteries. Alkaline batteries are recommended, but rechargeable batteries can be used, though may result in weaker power output.
LEGO BOOST will be available at most stores and online shopping sites where toys are sold, through select consumer electronics retailers, and at LEGO Stores and shop.LEGO.com in the second half of 2017 and will have a suggested retail price of $159.99 USD $159.99 (EUR) and $199.99 (CAD). For more information, visit www.LEGO.com/BOOST.