With summer around the corner it's time to buy the perfect pair of sunglasses for the sunny days ahead. Determining what style best suits your face shape can be tricky, so DivasandDorks.com sat down with MyHabit Senior Fashion Editor, Jenny Feldman who offered her tips and tricks of the trade.  Check out her advice on choosing the most flattering frames for your face:
Oval
Characterized by high cheekbones and a chin that is narrower than the forehead.
Oval-shaped faces are lucky as most shaped lenses suit them.  Experiment with various shapes, colors and styles, but make sure the size of your sunglasses is proportionate to the size of your face.
Round
Characterized by a full face without much cheekbone or jaw definition.
Look for styles that appear to lengthen and slim the face.  Avoid round curves and stick to square or rectangle frames.  Dark colored sunglasses add dimension to round faces!
Square
Characterized by a strong jaw with a wide forehead, chin and cheekbones.
Round frames contrast angular features, soften the jaw line and add length to the face – perfect for square-shaped faces.  Make sure the top of the frame sits high enough on the face to downplay the jaw line.
Diamond
Characterized by a small forehead, high cheekbones, narrow eye and a narrow jaw.
Those with diamond-shaped faces should opt for glasses that widen the forehead while downplaying cheekbones.  Oval, rimless frames can complement wide cheekbones often associated with diamond faces.
Heart
Characterized by a wide forehead and a low narrow chin.
Frames that are the same width on the top and bottom help balance heart-shaped faces by broadening the jaw.  People with heart-shaped faces should dabble with colored glasses which draw attention to the top of the face.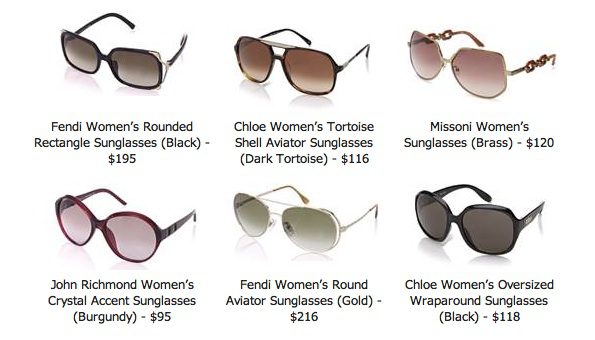 Other things to keep in mind:
Make sure the frames cover your eyebrows.
When choosing a pair of sunglasses, a good rule of thumb is that your eyes should be positioned in the middle of the lens (vertically and horizontally)
The edge of the frames should be slightly wider than the widest part of your face
Visit MyHabit, Amazon's membership-only fashion destination at 9:00am PT / noon ET on the following days to score shades of all shapes and sizes from top brands at up to 60% off with fast, free shipping and free returns:
April 23 – Fendi Sunglasses; Judith Leiber Sunglasses
April 24 – Kata Sunglasses
April 27 – John Richmond Sunglasses
April 30 – Missoni Sunglasses
May 1 – Kensie Sunglasses; Beryll Raw Sunglasses
May 2 – Chloe Sunglasses
Are you looking for new shades to update your look this season?  Which frames fits your face best?