If you are a Beyonce fan (or stan) one thing is for certain, you respect her talent, fashion and art.  Another thing is for sure, you have a favorite Beyonce video and fashion look etched in your brain forever.  W Magazine sat down with the artist to discuss her favorite looks, reasoning behind them and how they impacted her career forever.
"I had just turned 21, and this was my first solo video. I wanted to be a female version of James Dean and wear an iconic white T-shirt and jean shorts. I always think about wearing something a fan could buy and make her own; as a young girl I remember seeing so many artists, and then I'd try to dress like them. I sewed zippers on my jackets to be like Michael Jackson.
I'm wearing red pumps in the video. As a child I trained myself to dance in very high heels. At 13, in Destiny's Child, we were told to wear heels, but at first we couldn't walk in them. We couldn't keep our knees straight. But we learned, and that became the image of Destiny's Child: so young and so glamorous. Now I have a rule that my dancers have to wear their heels when I'm wearing my heels. They say, 'Please take your shoes off, Beyoncé.' At home, I'm always barefoot. And I have a heavy walk without heels. When they hear me thumping through the house, they say, 'Oh—Beyoncé's up!'"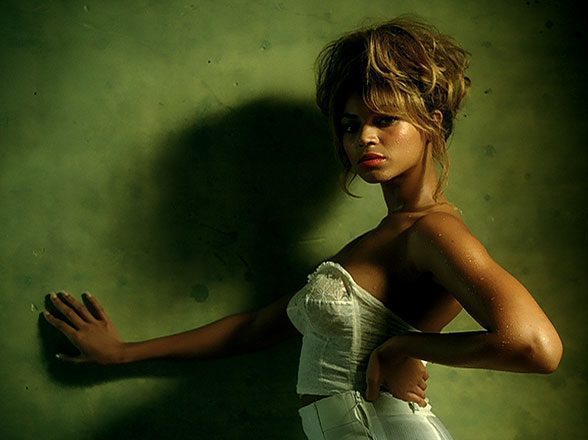 "We shot this in New Orleans right after Hurricane Katrina, and the choreography was almost tribal in my mind. There's something spiritual about Louisiana, where my family is from, and I thought of Josephine Baker. She had a way of dancing that was almost possessed. I used her as a reference and combined her with Brigitte Bardot. My hair, the bustier: It's very Bardot. I love to mix things that you wouldn't put together—like Baker and Bardot. They both had that French influence, which is really strong in Louisiana."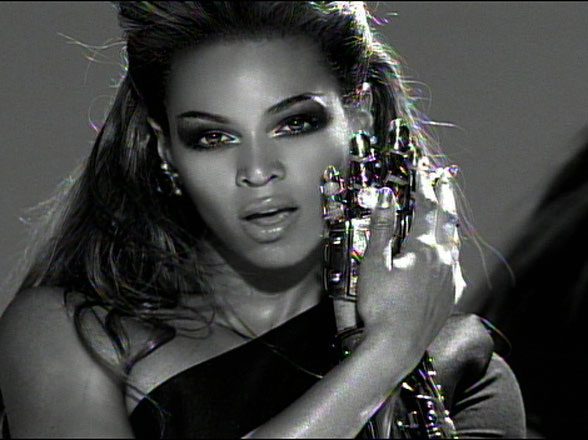 "SINGLE LADIES (PUT A RING ON IT)" (2008)
"My mom made the one-shouldered bodysuits the night before the video. Again, I wanted to wear something that any fan could wear. I'm obsessed with Bob Fosse, and I always saw the look of this video as very simple, very Fosse-inspired. It was one of the hottest days on record in New York, and we didn't know it at the time, but we were shooting in an old porn studio. I began to get suspicious because every dressing room had a theme. I was in the jungle room, and I realized they had made a porno in there. There was no air-conditioning in the studio and that added to the drama—we were shiny and sweaty."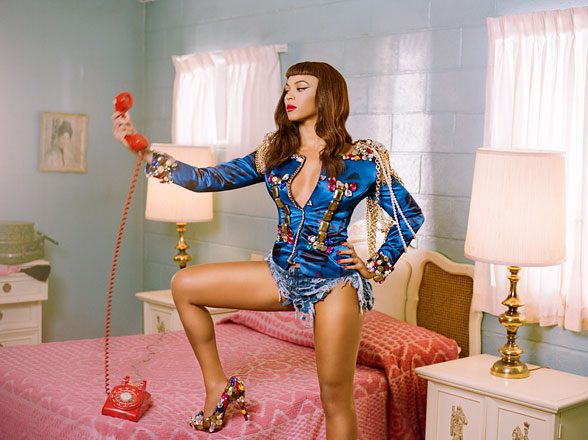 "TELEPHONE" (WITH LADY GAGA) (2010)
"Gaga is my girl! I'm her biggest fan. When I first saw her perform, I actually called her and said, 'You are great!' That was before her popularity hit, and we had a natural connection. Later, she asked me to do her video, and I said, 'I trust you, Gaga. I'll do whatever you want me to do.' I played a bad, bad girl. When I put on the Bettie Page wig, I got into the character. I started researching Bettie Page and tried to channel her pinups and poses. The video ended up being very much like Quentin Tarantino's movies. He gave us his blessing, even loaned us the car with pussy wagon written on the side from Kill Bill. My mom said, 'Do you have to use that car?'"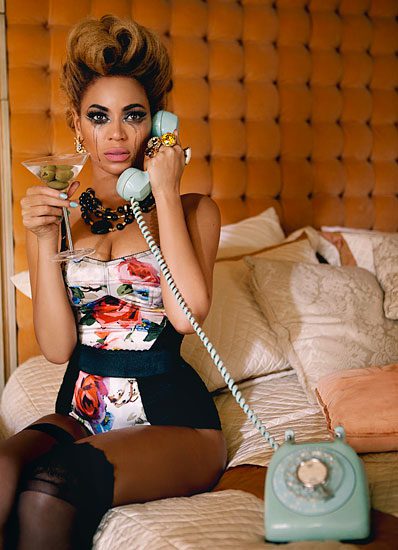 "WHY DON'T YOU LOVE ME" (2010)
"I was still thinking about Bettie Page, and wanted to do something that was inspired by her. This video was a secret: I paid for and codirected it and didn't tell my label or my management. The clothes and jewelry are from my closet, the wigs are mine, and I did my own makeup. We did eight looks in one day in this great house that belonged to a producer who worked with Dorothy Dandridge. He had pictures of her on the wall, so her spirit is in the video, too. I love Super 8 film and wanted to get those saturated colors. It's a different drama—the tears and martinis and cigarettes. I wanted to channel the past for the present."
For more Beyonce looks check it out
here
.
What's Your Favorite Beyonce Look?