Today, Apple unveiled Apple Watch – unfortunately for everyone waiting with baited breath, it won't be available for purchase until next year.
"Apple introduced the world to several category-defining products, the Mac, iPod, iPhone and iPad," said Tim Cook, Apple's CEO. "And once again Apple is poised to captivate the world with a revolutionary product that can enrich people's lives. It's the most personal product we've ever made."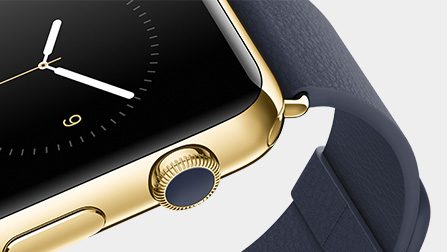 Apple's newest venture inside the realm of wearables will enable users to communicate right from your wrist by sending and receiving messages, answering calls to your iPhone, and with Digital Touch it makes sending personalized drawings, doddles and emojis easier than ever before. With comprehensive health and fitness apps that measure all fitness activity (not just walking or heavy exercising) ultimately helping users lead healthier lives. Apple Watch lets you interact quickly and conveniently using the apps you already know and love.  You can get step, by step directions, pay for coffee using Apple Pay, board a plane with a Passbook or even unlock your Starwoods hotel room door. Apple Watch is available in three distinct collections—Apple Watch, Apple Watch Sport and Apple Watch Edition.
Apple Watch will be available in early 2015 starting at $349. Apple Watch is compatible with iPhone 5, iPhone 5c, iPhone 5s, iPhone 6 or iPhone 6 Plus running the latest version of iOS 8.
What do you think?  Are you willing to wait for your Apple inspired watch or do you think the next best thing is already here?  Share your comments below.
Comments