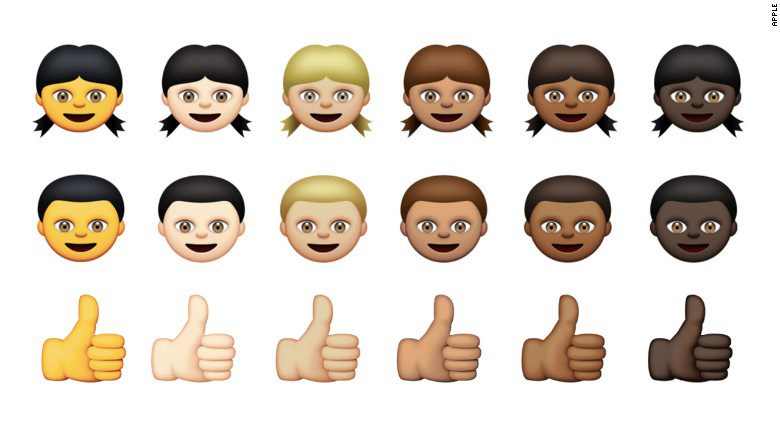 If you're one of the millions that's waited for emojis that look like them – rejoice!  New Apple Emojis are on the way!  According to Apple, the computing giant pledged to increase the diversity in its emoji keyboard last March, after a public outcry over the limited options for people of color. (A petition at DoSomething.org collected thousands of signatures. Miley Cyrus even tweeted about it, helping it to go viral on Twitter.)
The current illustrated icons include same-sex couples but no black characters. There is an Asian man wearing a traditional Chinese cap and an Indian man in a turban, but the rest of the emoji population is light-skinned.
Creating a more diverse emoji selection wasn't as easy as releasing a new iOS update. The keyboard of illustrated icons is based on Unicode, the standard for text, numbers and emojis across all platforms. Emoji originated in Japan and were added to the Unicode Standard in 2010. Apple first included them natively in iOS in 2011.
"Apple supports and cares deeply about diversity, and is working with The Unicode Consortium to update the standard so that it better represents diversity for all of us," said an Apple spokesperson.
What do you think? Are you ready for a chocolate skinned "thumbs up" or have you fulfilled your diversity need with animated gifs and bitstrips?  Share your thoughts below.
Comments