Earlier this summer Fiat Chrysler invited hundreds of influencers and media guests from around the world for an exclusive look at their complete lineup of 2016 vehicles. It was truly a "field day of cars" – where every automotive journalist and car enthusiast had to chance to drive their favorites from Fiat Chrysler Automotive. Every segment vehicle from Fiat, Dodge, Jeep, Chrysler vehicles were on hand for display and in-depth test drives on the proving grounds and track located in Chelsea, MI, truly making it an exciting experience for all.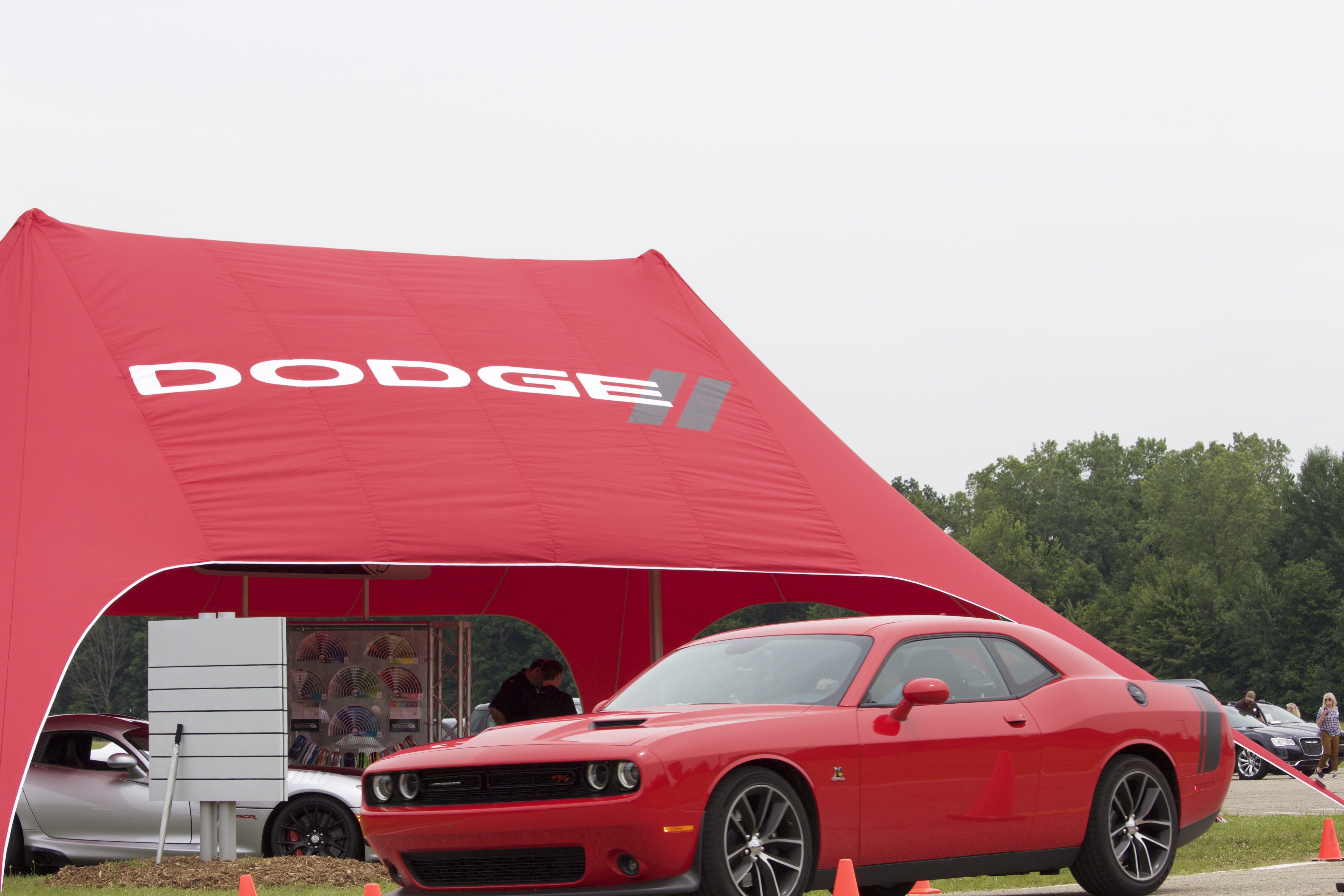 Earlier this year, I became slightly obsessed with the svelte yet spacious Fiat 500x (which then carried over to the 500c) – so it was only right that I began my day with the Fiat family of vehicles. Wondering what's new for 2016? Say hello to the new 2016 Fiat 500 models! Complete with a redesigned infotainment system, making your drive on the road better with each passing mile.
New exterior paint colors for 2016 are Spitfire Orange, Grigio Cenre (light gray), Rhino (dark gray) and Latte Menta (light green). Celeste Blue (light blue), previously only available on the Fiat 500 1957 Edition, is now available throughout the Fiat 500 lineup. Additional exterior customization is available with new-for-2016 wheel options.
Inside, the Fiat 500 Turbo features sport-styled seating, performance-designed leather-wrapped shift knob and steering wheel accented with Argento (silver) stitching and Grigio/Nero (gray/black) seating and interior environment. For an even more upscale look, heated leather seating in Nero/Nero (black/black) or vivid Rosso/Nero (red/black) is available. The standard 7-inch color TFT (thin-film transistor) cluster display allows drivers to easily monitor information.
For 2016, the Fiat 500 lineup features the Uconnect 5.0 system with a 5-inch touchscreen that enables handsfree calling via Bluetooth-equipped phones, as well as voice-command control of AM/FM, and optional SiriusXM Radio and navigation system. Digital music can be streamed wirelessly from compatible Bluetooth smartphones or audio players supported by a media hub equipped with an auxiliary jack and USB port that enables recharging and seamless operation of portable devices. An integrated CD player offers additional media flexibility.
The FIAT brand stands for discovery through passionate self-expression. That philosophy is embodied by the iconic Fiat 500 or Cinquecento – a small car that lives big. Italian at heart and rooted in a rich heritage, the 500 is sold in more than 100 countries around the world and is synonymous with modern, simple design blending form, function, technology and a pride of ownership that is genuine.
If speed is what you need, you're in luck because the new 2016 race-ready Mopar Dodge Challenger Drag Pak is equipped with the essentials that every racetrack enthusiast needs.
The newly unveiled Mopar Dodge Challenger Drag Pak will be coming to a strip near you! It comes straight from the factory ready to compete in nationally sanctioned drag races including the National Hot Rod Association (NHRA). But if you're a competitor, you betta have the $$$ & be ready to win! The Challenger Drag Pak begins at $99,426 for the 426 Hemi while the supercharged version of the car will sell for $109,354. CHA-CHING!
There's no way I could mention speed without mentioning one of the busiest brands of the day – Dodge! The 2016 Dodge Challenger and 2016 Dodge Charger (Hellcat & Scat Pack) epitomized domestic muscle on and off the road. If this FCA 2016 event was a high school dance, these beauties would be the belles of the ball.
In addition to Fiat and Dodge unveilings, the Chrysler family of 300s and 200s powered by Beats Audio made every lap around the test track boom with precision and bass. Beats audio is an exclusive of the FCA and can be found in additional Fiat, Dodge and Jeep models too.
For more information on what's new from the 2016 FCA lineup visit FCAonDemand.com. 
Comments